Sound Devices will introduce the CL-WiFi hardware accessory for its 788T digital location recorders at the NAB show in Las Vegas.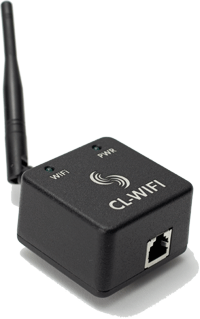 The CL-WiFi works together with its companion iOS software app to allow iPads, iPhones and iPod Touches to control a connected 788T. The CL-WiFi turns an iOS device into a simple, portable control surface that allows a sound mixer to move around on set, away from the sound cart, yet still have extensive control and monitoring of their 788T recording system.
'Sound Devices constantly strives to provide intuitive accessories and firmware updates to help meet the growing needs of our new and existing 7-series recorder customers," says Sound Devices MD, Jon Tatooles. 'The CL-WIFI was created to help sound professionals manage their 788T regardless of their location on set for production applications that require non-tethered audio recording control, such as critical sound-for-picture and music productions that require the sound mixer to record while not directly connected to the dedicated sound cart.'
CL-WiFi is a Wi-Fi access point when the iOS device connects to it over Wi-Fi. The CL-WiFi app then uses the Wi-Fi connection to communicate with the 788T. The iOS app controls metering of 788T input and track levels, time code, file length, frame rate display and record start/stop control input-to-track routing enabling take list and take name editing.