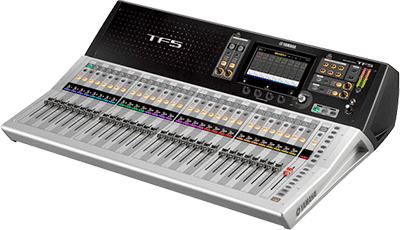 Yamaha Pro Audio has worked with Shure on the new TF Series of live mixing consoles.
The TF series comprises the TF5, TF3, and TF1 feature 33, 25, or 17 motor faders respectively, with 32, 24, or 16 rear-panel analogue inputs featuring recallable Yamaha D-Pre preamplifiers for the first time in a digital console. This facility provides greatly improved support for live music and events where full set-up changes need to be made on the fly.
There are a total of 48 inputs on the TF5 and TF3, and 40 on the TF1, including dual stereo analogue/USB digital inputs and dual returns. Advanced live recording features include up to 34 x 34 channel recording and playback via USB 2.0 and 2 x 2 with USB storage.
TouchFlow Operation is a new approach to console operation that combines elements of Yamaha's user interfaces with an advanced touchpanel system, allowing their operators to respond to the music and artists on stage. A number of TF series features also contribute to set-up. 1-knob Comp and 1-knob EQ features make it easy to dial in the sound via a single rotary control for adjusting individual sources and on outputs. A GainFinder feature assists optimum gain set-up for individual inputs.
Also provided is a range of input and output channel presets created in cooperation with Shure, Sennheiser and Audio-Technica, as well as working engineers. The input channel presets are made to match a range of musical instruments and voices, covering parameters such as head amp (HA) gain, EQ, dynamics and much more, right down to channel name and colour. Output channel presets include parameters optimised for in-ear monitors (IEM) and powered speakers, with variations to match different environments and room sizes.
Additionally, mobile mixing and personal monitor mixing can be controlled wirelessly with separate software applications on a compatible device.
Shure has brought its expertise to the TF series by providing preset parameters for its most popular mics across the PG Alta, SM, Beta, and KSM lines. The presets are designed to match many different instruments and voices. They control parameters including EQ, dynamics, headamp gain, limiter, and gating, and can easily be adjusted in intensity with a single knob control. Presets can be recalled, changed, and then resaved to enable engineers to always have their preferred presets one touch away. A library of additional presets will be maintained and available for download from Yamaha's website.