The Beachtek DXA-5Da is a passive interface enabling DSLR cameras to connect to almost any professional mics with balanced outputs.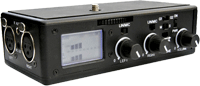 Offering a high-quality alternative to the built-in mics found on the DSLRs used in professional video shoots, the DSA-5Da has a screw and retractable azimuth pin to connects to a camera, and a tripod bush is provided in the base. Its two XLR inputs are transformer balanced, and an auxiliary input is provided as an unbalanced 3.5mm jack socket, which injects signals, such as radio microphones into the right channel. The output is unbalanced, at microphone level; a 3.5mm stereo jack socket and supplied output cable, terminates in a right-angled, 3.5mm stereo jack plug. Each channel has a switch to select microphone or line level, and a mono/stereo switch allows the connection of a mono input to both channels. A ground lift switch assists in removing annoying hum components.
A pair of eight-stage vu meters on an back-lit LCD allow monitoring of output levels. These are calibrated to indicate between -54dBu and -33dBu, and are useful to ensure optimum levels are sent to the camcorder inputs. A headphone amplifier with volume control is also provided for monitoring camera input level, as the camera may not have this facility. An AGC DSBL switch disables the automatic gain control on a camera that might employ AGC but without a bypass, using an inaudible tone to reduce 'the wild swings of the Auto Gain Control that plague most cameras', dramatically reducing noise during quiet moments of recording. The LCD also shows any switch settings on the unit as well as battery power. A standard 9v PP3 is used to power the monitor, meter and AGC DSBL only.