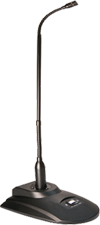 Audix has introduced the ADX12 and ADX18 professional miniature gooseneck condenser microphones with modular capsule components at the US Namm show.
Designed for applications such as podium, presentation, meetings and teleconferencing, the ADX12/18 has a frequency range of 40Hz to 18kHz and are optimised for speech pick-up. The ADX series gooseneck system features a gold-plated circuit board with a sophisticated preamp circuitry that is manufactured in-house by Audix. Additionally, the circuitry employs immunity protection from RF from cell phones and wireless GSM devices.
The ADX 12/18 are available in cardioid and hypercardioid polar patterns. Other features include machined aluminum and brass capsule housings, copper tubing integrated with wound flexible steel for secure and exact placement, field replaceable capsules, replaceable electronics and a variety of optional stands and mounting accessories. P
rovided with a table flange mount for permanent installation, the ADX12/18 require phantom power of 9V–52V and are available in non-reflective black matte finish.
MSRP for the ADX12/18 is US$225 for cardioid and US$245 for hypercardioid pattern.
MicroBoom 24
Audix has made its MicroBoom available in a new 24-inch length as the MicroBoom 24.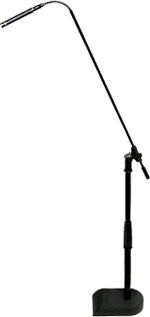 Intended for vocal, choir and orchestra applications, the boom's carbon fibre- arm is designed specifically for the Audix Micros Series of miniature integrated condenser microphones. When combined with the M1250B, M1255B or M1280, the MicroBoom 24 can attach to any microphone stand or 5/8 threaded mount.
'The MicroBoom 24 came about initially as a request from The Portland Cello Project, an eclectic group of 15 cellists,' says VP of Sales, Cliff Castle. 'They use the M1280 for live performances and even though they bring their own mics with them wherever they go, miking the instruments in often awkward with the standard mic stands and tripods currently available.
'On one of their visits to Audix, we showed them the MicroBoom and asked if they would be interested in a shorter version, one that could be used in conjunction with our short pedestal stand. We made some prototypes and it allowed the group to carry their own 'custom miking system' with them. We soon learned that this shorter version of the MicroBoom had universal appeal so we decided to introduce it as part of the line.'
Used with the Audix pedestal stand (Stand-MB), the MicroBoom 24 will achieve mic heights of 24-42-inch from the floor, making it well suited to use with instruments such as cello and double bass. On a normal sized mic stand the Microboom 24 can be used for acoustic guitar, violins, band and orchestra, tympani, percussion and speech. If used with a desk stand or short mount, it is suited to podium applications.
The companion mics for the MicroBoom 24 are from the Micros range, which are the world's smallest condenser microphones with integrated preamp and detachable cable. The M1250B, M1255B and M1280 are available with either cardioid, hypercardioid, omni or supercardioid polar patterns depending on choice of capsule. Used together the mics and boom offer a modular system that is extremely lightweight and low profile, easy to place, immune to RF interference from wireless and cell phone devices, and requires no additional or separate phantom power adapter.
MSRP for the MicroBoom 24 is US$145.
More: www.audixusa.com