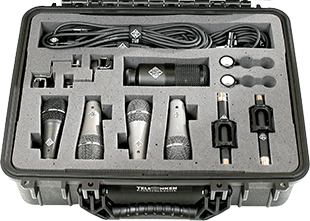 Telefunken Elektroakustik has announced two drum microphone packs for recording and live performance, combining a selection of its Dynamic Series mics with two matched small diaphragm FET condensers. The kits comprise the six-microphone DC6 Drum Pack and the seven-microphone DC7 Drum Pack.
Each microphone set includes the M82 for kick drum, the M80-SHB for snare, M81-SH for toms, and M60 FET cardioid for cymbals or overheads. Both the DC6 and DC7 ship in heavy-duty hard shell HC87 flightcases, and include multiple drum mounts (M782, M784 and M785) and a 5m XLR cable for each microphone in the set.
The DC6 and DC7 Drum Microphone Sets include the switchable M82 (with M782 mount), a robust, large-diaphragm, end-address dynamic microphone designed for kick drum and vocal broadcast applications. The M80-SHB (with M784 metal and M785 plastic mount) is designed for snare drum and vocal applications where a lower profile microphone with right angle XLR cable is needed. Two M81-SHs (with M784 and M785 mounts) complement the M80-SH, with the a flatter overall frequency response for tom and percussion. The DC7 pack includes an additional third M81-SH. Two M60 FET (with M761 elastic mounts) small-diaphragm, solid-state condenser microphone with two matched TK60 cardioid capsules are provided for overheads or cymbals. There are also six SGMC-5R XLR cables with right-angle female connector, and a seventh with the DC7.
The MSRP for the DC6 pack is US$1,995and US$2,195 for the DC7.