Completing its 4099 clip microphone line, DPA Microphones has released the 4099D for drums, 4099P for pianos and the universal 4099U microphone mount. The range now provides a dedicated 4099 for all instruments comprising a full orchestra.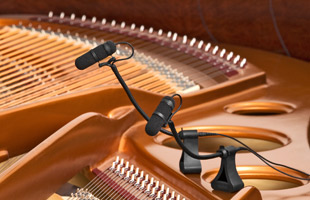 The 4099P stereo microphone system for piano is the first microphone kit in the 4099 range, combining a pair of sensitivity-matched 4099 mics on goosenecks with magnetic mounts. The unobtrusive design makes it well suited to different piano miking scenarios, including closed lid applications. The magnetic mount and gooseneck allow stable and consistent positioning, and can angle the mics to capture a variety of sound nuances. The magnetic mount can also be used on instruments with metallic surfaces such as drums, accordian, and various forms of percussion. The system includes two DAD6001 3-pin XLR adapters.
The 4099D microphone for drums and percussion unveils DPA's '90°' system. Detaching the clip from the gooseneck, turning it 90° and re-mounting it, doubles the available miking positions. The 4099D can be combined in numerous ways and with a wide variety of microphones for miking a complete drum kit. There is also a dedicated bass drum clip, the DPA VC4099, which fits on the rim.
The DPA 4099U microphone solution has been designed for slim bodied and unusually shaped instruments. The mic clip includes a hook-and-loop fastener which allows instruments of varying sizes and diameters, such as oboe, clarinet, bassoon, recorder and flute, to be fitted. The fastener pulls tight to fit the circumference of the instrument, and additional hook-and-loop fasteners can extend the clip's capacity for very large diameter instruments. The 4099U also features the 90° system, providing more mounting options. The UC4099 Universal Clip is available separately, and can be used with any of the various versions of the 4099 family.
All 4099 mics have a supercardioid polar pattern for high gain-before-feedback and come with discreet mounting solutions and robust carrying cases.
More: www.dpamicrophones.com