Midas' XL48 'digi-log' mic preamp combines eight XL4 mic preamplifiers in a 1U-high box, complete with swept high- and low-pass filters, eight Midas XL8 96 kHz 24-bit A-D converters and a super-low-jitter clock. Additional features include eight-segment LED input meters, individual phantom power, polarity invert, and -20dB pad. All inputs are Neutrik XLR and 25-way D-sub connectivity.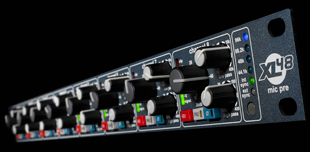 The XL48 also features both analogue and digital outputs in Adat and AES/EBU format. All five outputs can be used simultaneously a multi-function analogue/digital mic splitter. Multiple clocking options include external wordclock, internal 96kHz, 88.2kHz, 48kHz and 44.1kHz.
Applications include mobile recording, analogue and/or digital splits between consoles, and adding Midas mic preamps and a reference-grade clock to other digital systems.
Key features:
· Eight mic/line inputs featuring Midas XL4 mic preamps.
· Analogue Midas XL4 swept low- and high-pass filters.
· Individual 48V phantom power switching per channel.
· Individual -20dB pad switching per channel.
· Individual polarity switching per channel.
· High accuracy 8-segment LED meter per channel.
· Midas XL8 ultra low latency 96kHz, 24-bit AD converters.
· Supports 44.1kHz, 48kHz, 88.2kHz and 96kHz sampling.
· Ultra low jitter reference-grade 1 part-per-million (1 ppm) temperature-compensated clock oscillator with external Word clock syncing options.
· Parallel fully balanced XLR and 25W D-Sub input connections.
· Driven and buffered fully balanced 25W D-Sub output connections.
· Dual AES3 25W D-Sub output connector.
· Dual TOSLINK optical output connectors.
More: www.midasconsoles.com