Audix has introduced the Band Pack – the BP5 Pro and BP7 Pro offer five- and seven-piece, studio-quality microphones, while two affordable, equivalent band packs, the BP5F and BP7F, comprise five and seven microphones from the company's dynamic Fusion Series.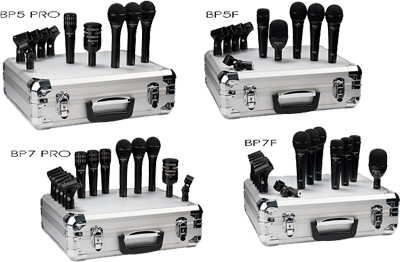 'The Band Pack idea evolved after years of working with artists and engineers on all performance levels,' says Audix co-founder and VP of Sales, Cliff Castle. 'Because the Audix instrument microphone packs were a tremendous success, the next logical step was to offer complete ensembles which include both vocal and instrument microphones that complement each other and work in tandem. Staying true to our mic pack philosophy, we are able to provide pre-packaged microphone sets at a huge savings compared with purchasing the mics individually.'
The BP5 Pro is a five-piece professional microphone pack, which includes the D6 and i5 instrument mics for kick and snare drums. Add the OM5 lead vocal dynamic microphone and two OM2 dynamic vocal mics, and the kit offers five mics for band or stage performance. The BP7 Pro is the same package with two additional microphones – the i5 dynamics, for miking guitar and bass cabinets a well as a wide variety of instruments.
'In order to satisfy all market demographics, Audix chose to offer the same Band Pack Pro configurations in our cost-effective Fusion Series,' Castle adds. 'Not to be underestimated, the Fusion Series mics offer excellent performance and affordability.'
These Audix microphones are designed with tight polar patterns to achieve maximum gain before feedback on stage or with a house PA system. All of the instrument and vocals microphones offer high sound pressure level handling without distortion. Aside from live sound applications, the microphones are well suited yo recording and live broadcast.
Suggested US retail price are: Pro Band Packs BP7 Pro US$975 and BP5 Pro US$775, and Fusion Band Packs BP7F US$650 and BP5F US$495.
More: www.audixusa.com