Laying claim to being the first company to bring professional mic packs to the market, Audix has released the DP-Quad pack for drums and percussion. According to Audix, the DP Quad pack 'is the simplest, most effective combination of microphones needed to capture the depth and imaging of a full drum kit'.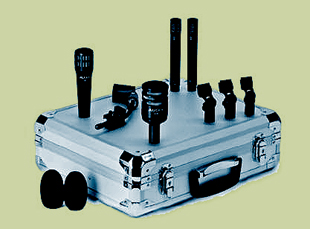 Comprising a D6 for kick, i5 for snare and two ADX51s for overhead, the DP-Quad is intended to cover both close and overhead miking. The D6 and i5 are high SPL dynamic microphones for close miking. The D6 will help provide the low frequency and attack of the kick while the i5 targets the depth and crack of the snare. These two mic positions are the core of any drum mic set-up.
The ADX51 is a pre-polarised condenser microphone with a 14mm gold sputtered diaphragm which is designed for overhead applications. Depending on positioning, the ADX51s will pick up the high-hat, toms, cymbals and ambiance of the entire kit. Overhead (ambient) miking will capture transients, tonality and balance of the kit in a completely phase-coherent manner.
To accompany the package, Audix provides a video demonstrating specific set-up requirements for each mic, along with detailed examples of how the four mics work in tandem to create a full, natural sound for both live and recording applications. The video – which is also available on the Audix website – promotes the importance of drummers maintaining control of their sound.
The DP-Quad comes with mic stand adapters for each mic and a DVICE rim mount for the i5 on snare.
More: www.audixusa.com