The Gold Channel from Legendary Audio is an easily portable, fully analogue 'pedal board for live vocal performance', claims to replicate 'an iconic microphone paired with a multi-million-dollar console's channel strip'.
Designed to sit on the stage floor in front of the singer and work with any standard dynamic or condenser mic, the Gold Channel is the result of a combined R&D effort from veteran mastering engineer Billy Stull (referred to by Rupert Neve as a man with 'golden ears') and circuit designer Kevin Burgin, who was instrumental in the creation of the 5088 console during his decade working for Rupert Neve Designs.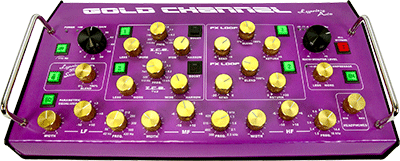 The Gold Channel's feature set starts with an super-high-quality preamp with ultra-low THD plus noise spec of 0.0007% (measured at 1kHz, -20dBu input, +30dB gain). No transformers are used in the preamp stage, and each circuit is designed from the ground up using a combination of the latest and legacy semiconductors.
The Gold Channel's Legendary Microphone Sound control can be blended as desired into the vocal signal path with a rotary dial. 'The best microphone I ever heard in my entire life was a Neumann U47 first owned by my friend, Norman Petty, who used it to record Buddy Holly, Roy Orbison, Waylon Jennings and many others,' recalls Stull. 'I had the privilege of owning that exact mic for a number of years myself and know its sound intimately, and we've been able to accurately replicate the subtle nuances of its tone.
'In fact, when Kevin and I finally felt that we had nailed the sound of that Holy Grail mic during the Gold Channel's design, we put on a Buddy Holly record and both got choked up in hearing how similar our result was to Norman's original recordings from more than 60 years ago.'
Also unique to the Gold Channel is the proprietary ICE (In Case of Emergency) processor that can reduce or eliminate distortion in specific frequencies, control sibilance, tame vocal-chord over-modulation and quickly suppress feedback. ICE can add low, mid, or high-frequency vocal enhancement in a different and more natural way than EQ.
'Billy's ICE is the most exciting new analogue product to hit the pro audio world in years,' says Burgin. 'ICE can remove transistor distortion in even the most expensive condenser mics, and I don't think I've ever been as excited about a circuit and its potential as I have been about this one.'
Stull originally created ICE as a plug-in for Sonic Studio, which continues to offer the product. 'ICE worked so well as a digital plug-in when I invented it a few years ago that I knew I wanted to bring it to the Gold Channel, but in an analogue version, which is the opposite path of most cases,' he says. 'Normally, the digital plug-in is a clone of some piece of analogue gear. But this was the first time, to my knowledge, that someone took a successful digital product and re-engineered it in analogue form – and it absolutely blew us away.'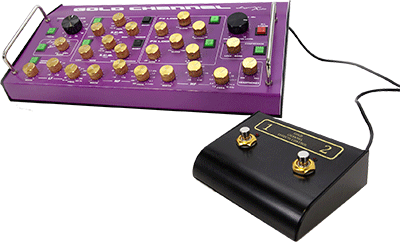 Other features include a high-pass filter to eliminate rumble, plosives, mic handling and stage noise under 110Hz. A sweepable three-band parametric equaliser allows tonal shaping, while an simple yet professional-grade compressor helps contain dynamics and enable intimate 'breathy' vocals and other enhancements.
Two effects loop circuits (Hi-Z unbalanced and Lo-Z balanced) are controllable via an included dual-button footswitch, allowing the singer to take control of their own effects onstage. For example, one effects loop could bring in reverb or other ambience, while the second could route to an echo effect that might be turned on and off at various points in a song. Looping in outboard effects like these can become an integral part of the overall performance and allow the singer to explore new creative possibilities.
Housed in a 17-inch wide purple powder-coated aluminium chassis, the Gold Channel features a sloped control panel and heavy-duty feet for tabletop or stage use, with ample clearance for cable runs below. Rear panel output connections include an XLR for main output, as well quarter-inch jacks for monitor and headphone outs, while switches for +48V Phantom Power, ground/lift, line/mic level (main output) and a power switch round out the rear-panel controls.
'Our new Gold Channel gives the serious vocalist a "golden voice" wherever they perform, be it a concert hall, nightclub, church, or a broadcast, home or professional recording studio,' says Stull.
The first production run of the Gold Channel is now complete, and has been limited to 30 pieces, which are sold directly from the manufacturer for US$4,395. An optional flightcase is also available.
More: www.legendaryaudio.com