Following the Camden 500 500 series mic preamp, Cranborne Audio is shipping the Camden EC2, offering the same preamp topology in a dual-channel, 19-inch 1U-high standalone format.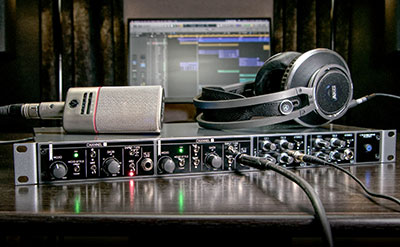 Offering a studio front-end, the Camden EC2 combines two Camden mic/line/hi-z preamps with Mojo analogue saturation circuits with two reference-quality headphone amplifiers and discrete line mixers for zero-latency, direct-monitoring during tracking. Mojo analogue saturation controls transform Camden EC2 from a clean, natural and precise sounding preamp, into a vintage-sounding preamp.
Using two reference-quality headphone amplifiers with independent line mixers, both preamps can be monitored directly using headphones connected directly to EC2's front panel. Headphones can be used during mic placement to find the sweet spot of the instrument/source or create zero-latency artist mixes by combining the preamp signals with external playback from the aux input quarter-inch jacks on the EC2's rear panel.
The EC2 also uses Cranborne Audio C.A.S.T. system for distributing audio around the studio or stage using shielded Cat5e, Cat6 or Cat7 cable. Connected to a 500R8 or 500ADAT, the EC2's preamps arrive directly at the interface's inputs ready for further processing and recording. The same cable allows transmission of the built-in monitor mix directly to EC2's headphone mixer for monitoring.
Connecting the EC2's C.A.S.T. input port to Cranborne Audio's N22 or N22H provides a cost-effective analogue snake – N22 or N22H can be used to relocate EC2's preamp inputs to a remote location such as a vocal booth, live room, hallway, or reverb chamber using Cat5e as cheap, high-quality, analogue multicore. The Mojo saturation circuits can also be used during mixing, and the EC2's Link output for reamping.
The Cranborne Audio Camden EC2 is available from July 2020 priced at £1,099 RRP inc VAT. Cranborne Audio is distributed in the UK/ROI by Sound Technology Ltd.