Lawo has released new software with additional options, functionality and security features for its line of radio mixing consoles, Ravenna/AES67 mixing engines and VisTool GUI Builder software.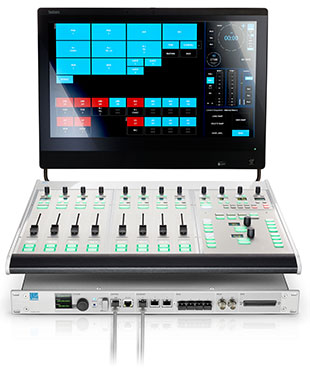 'The business of radio continues to evolve, and Lawo is committed to upgrading and improving our tools to match industry needs,' says Senior Product Manager for Radio, Johan Boqvist. 'This upgrade gives users new tools to tailor Lawo radio equipment to meet their unique on-air and production workflows. And they will benefit not only radio clients, but TV production and audio infrastructure users as well.'
The first major feature introduced with Radio Software v6.6 is a new licence package for Lawo's Power Core DSP mixing/routing engine: Power Core Edge. This provides an entry-level configuration designed specifically for deployment as a high-capacity audio gateway, where mixing surface control is not required. It's aimed at NOC and TOC installations where plenty of audio ingest is needed, or for large-scale conversion of legacy baseband signals to AES67 networking.
The Power Core Edge license supports two Madi interfaces with 128 audio channels, and up to 64 Ravenna/AES67 streams with a maximum channel count of 128. There's a 1,280 x 1,280 routing matrix, and the ability to expand with up to eight rear-panel I/O cards. Power Core Edge can be controlled with the Lawo VisTool user interface application, which supports as many as 128 patchable audio PPM and/or loudness meters onscreen. It can also be controlled with KSC control panels, and the Ember+ network protocol.
Feature extensions:
An 8x8 GPIO add-on package for the Edge and SAN (Super Audio Node) licences.
An add-on with 64 Mini-Mixers and selectable talkback inputs for the SAN, Console L, Console XL and Max licences.
An N-1 (Mix-Minus) add-on with 64 return feeds for the SAN, Console L, Console XL and Max licences.
A Loopback add-on for Edge, SAN, L, XL and Max licences which provides 128 loopbacks per free 8-channel I/O slot.
Make-before-break' functionality for Ravenna/AES67 stream switching.
Improved snapshot timing and load speed in Power Core.
Integration of De-essing and AutoMix functions within the main DSP structure.
Power Core support for the newly-released AES-3id I/O card.
With broadcasters producing ever more content via remote operation and remote control, via WAN and LAN, network security is more important than ever. v6.6 software adds several new security features to Power Core to help keep intruders out, such as an Ember+ whitelist to allow connections only from authorised sources, an option to limit control data to specific interfaces, upgraded protection against Denial of Service data flows on the network, SSL support for remote access, and enhanced network traffic logging for inspection and debugging operations.
Radio v6.6 software is applicable to the entire range of Lawo radio products, including ruby, sapphire, sapphire compact, crystal and crystalClear mixing consoles, Power Core, Nova17 MK2 and Nova 29 engines, VisTool Mk2 GUI Builder software, and the On-Air Designer console customisation tool.
More: www.lawo.com