Antelope Audio has released seven new vintage mic models for its Edge Go Synergy Core and made a number of (formerly charged vocal-orientated virtual effects emulations available for free.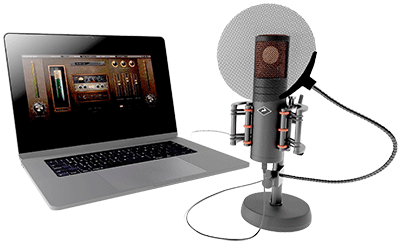 Synergy Core offers the same package of FPGA processing and DSP found on the company's Discrete 4 Synergy Core, Discrete 8 Synergy Core, Orion Studio Synergy Core and Zen Tour Synergy Core audio interfaces. All are capable of latency-free monitoring with effects when recording, allowing users to hear already processed signals in real-time. Another benefit is that processing is offloaded from the host CPU when mixing/mastering, making it possible to work with larger DAW sessions without impacting channel count or processing capacity.
Having hinted at Edge Go's Synergy Core capability when announcing availability of Auto-Tune Synergy as a custom software plug-in for the Synergy Core platform, Antelope Audio has now enhanced Edge Go's Synergy Core capability further with virtual effects emulations.
The Opto-2A plug-in captures the subtleties and nuances of a classic hardware 1960s-vintage electro-optical compressor. Its continued use in broadcast and recording studios worldwide over half a century after its inception is testament to its audio engineering excellence. Exceptionally warm sound and a gentle compression character have endeared it to generations of artists and producers, possibly gracing more hit records than any other outboard unit in hardware history. Opto-2A emulates the T4 optical attenuator's two-stage release, with only gain and peak reduction controls needed to operate it.
The MG4+ plug-in recreates the sound of a 500 Series EQ module, emulates its Sky Band but boosted by ten (2.5, 3.5, 5, 7, 10, 15, 20, 25, 30 and 40kHz) settings above and beyond the original hardware's five. Other enhancements include a master Gain control not present on the original hardware.
Antelope Audio's Adaptive Vibrato's virtual effect development derived from examining tried-and-tested circuits before making virtual emulations of them – Latch and Trigger modem; Rate and Depth controls; five-way Wave Modulation; Delay and Rise controls; Threshold and Endfreq controls; plus control over the dry/wet mix.
The Space Flanger offers input adjustment (-12dB to +12dB); Wave selection from triangle and sine modulation; Feedback adjustment; delay offset between the source and delayed signal (in milliseconds); Rate of the modulating wave; Depth of the modulating wave; and Mix between the dry and wet signals.
Vari-Speed Tremolo represents a versatile virtual take on vintage tremolos, courtesy of its five-position Wave selector and the addition of a Vari-Speed Rate knob.
Edge Go comes with 18 vintage mic emulations including seven new ones – Berlin K86, Berlin 47 TU, Berlin V563, Berlin/Halske MN25, Berlin M251, Minnesota 20 and Illinois 7B – embedded as real-time onboard processing and also as AAX-, AU-, and VST-compatible plug-ins. Twenty further real-time effects accompany Auto-Tune Synergy.
Powered by a macOS 10.12 Sierra or above Mac (2012 or newer with available USB 2.0/USB3.0/3.1 port) or Windows 10 on PC (with USB 2.0/USB3.0/3.1 port), Edge Go does not require 48V phantom power to function.
More: www.antelopeaudio.com