Countryman Associates has released the B2D Directional Lavaliere Microphone.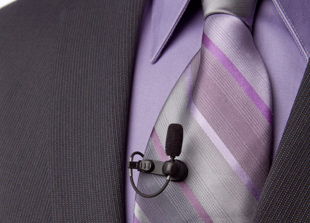 Claimed to be the world's smallest directional lavaliere microphone, the mic can be discreetly placed in clothing (or even in a performer's hair), and is aimed at theatrical and musical sound reinforcement applications. It is equally suited to use in broadcast, presentation, worship, and public speaking applications.
The B2D offers a tight, hypercardioid polar pattern for secure isolation from ambient noise and feedback. Compared to an omnidirectional lavaliere microphone, the B2D achieves, on average, 6-10dB more gain before feedback, ensuring plenty of audio level in the most demanding environments. This this also gives fewer issues with phase interference when multiple microphones are used simultaneously.
The mic has a frequency response of 50Hz to 18kHz, with a 4dB presence boost at 6kHz for increased intelligibility. It is available in three sensitivities/versions to accommodate a wide range of applications. The corresponding overload levels (at 1% THD) are: 120dB SPL, 130dB SPL and 140dB SPL.
With its resistance to moisture (perspiration), its availability in five colors to match varying skin tones or clothing, and its small size, the B2D is a particularly aimed at theatrical use. It is compatible with many different wireless systems and its detachable wireless connector facilitates easy changes from one wireless system to another.
A shock mount clip significantly reduces cable- and clothing-induced vibration noise at the microphone. The clip dampens vibration noise while enabling 360° rotation of the microphone, resulting in easy positioning of the microphone. A double-mic clip is also available, enabling redundant miking in broadcast and other applications where it is essential to have two independent microphones and transmitters on the presenter.
The Countryman B2D is engineered and built for high reliability. It includes an extremely rugged cable (break strength greater than 50lbs) to survive use in tough environments.
'With first-rate audio performance, robust build quality designed to last, and painstaking attention to every last detail, I'm confident the new B2D will find its place in a broad range of applications,' says Chris Countryman, President of Countryman Associates. 'This microphone can be hidden very easily while delivering full range sound quality. I believe many audio professionals will find it to be a compelling choice.'
The Countryman B2D Directional Lavaliere Microphone is slated to be available in early June 2011.
More: www.countryman.com