DPA Microphones has released a series of modular microphones at the Frankfurt Pro Light & Sound show.
The Reference Standard mics raise the performance levels of DPA's Standard and Compact ranges, offering increased flexibility, sound quality and cost-effectiveness.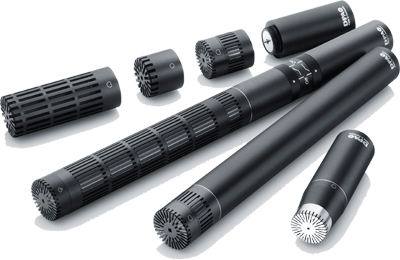 4000 Series
The Reference Standard 4000 Series improves on DPA's Compact and Standard 4006, 4011, 4015 and 4017 mics, making a wide selection of capsules available at different price points and performance demands.
Three new preamplifiers improve on previous designs: the MMP-A ultra transparent transformerless preamp with active drive for impedance balancing, the MMP-B preamp with low-cut and high-boost filters and the 45mm compact MMP-C preamp with a softer character.
The range's modular design allows any mic within the series to be transformed into a new variant. Additionally, owning several capsules will be more cost-effective than purchasing complete mics. As with all DPA products, the entire manufacturing process takes place at the company's purpose-built factory in Denmark.
2000 Series
Also new to the range are the Twin Diaphragm Capsules which form the 2000 Series. The MMC2006 omni and MMC2011 cardioid capsules are rooted in the design technology of DPA's classic miniature capsules. The 2006 encapsulates two opposite-facing 4060 omnidirectional miniature diaphragms to form a one-capsule, dual-diaphragm design, reducing noise and enhancing sensitivity. The 2011 also benefits from DPAs interference tube design experience.
These mics are designed to bring the sound qualities of DPA's classic 4006 omni and 4011 cardioid to a larger market.
Innovative accessories increase versatility and allow for future upgrades or new applications. For example, a new DPA cable accessory features a super slim XLR connector that adds little length and forms an elegant spot microphone for suspension on a TV set or live stage. A modular, carbon-fibre stereo mounting bar is equipped with Rycote Lyres to position mics stably at the desired angle for stereo recording. This mounting device can also be screwed into a gooseneck for mounting inside a piano, or connected directly to a camera stand. Adjustable and modular, this innovative new mounting device is as flexible as the mic range itself.
'Our miniatures have been used for years for instruments and concert recordings, and we have taken them a step further, refining them and building them into regular microphones,' says company co-founder Morten Støve. 'A big advantage is the fact that you can start out with the capsules from the 2000 series and then later upgrade to the 4000 series, as the preamps are the same. Once again our development team has done a great job."
Key features:
Cardioid and wide cardioid capsules can now handle 139dB(A) before reaching 1% THD; the max SPL handling is increased to 159dB (A) when using the MMP-A preamp and 152dB for the MMP-C compact preamp respectively.
The 4006 omni now handles 4dB more SPL before reaching 1% THD; max SPL handling is increased to 147dB for the MMP-A preamp and 140dB for the MMP-C preamp. The dynamic range is an impressive 121dB – ready for 24-bit resolution.
CMRR (RF rejection) has been improved to >60dB, >50dB and >40dB for amplifiers MMP-A, MMP-B and MMP-C respectively. Adding a transformer to the circuit could have increased this further, but for sound quality reasons it was decided to choose Impedance Balancing with Active Drive technology.
More: www.dpamicrophones.com