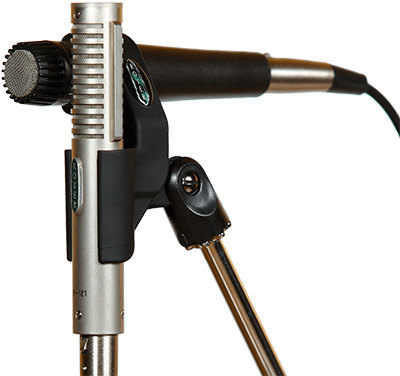 Royer Labs has announced the AxeMount Dual Microphone Mount, designed to facilitate the use of a Royer R-121 ribbon mic with a 57-style dynamic microphone – among the most popular methods for miking electric guitars.
The AxeMount microphone clip positions an R-121 directly next to a 57-style dynamic microphone, with the set-up phase-aligned and ready to record. Whether requiring small positional adjustments on a loudspeaker or the ability to easily switch both mics to a different cabinet, the AxeMount clip makes the process as simple as repositioning a single mic stand. The AxeMount also accommodates Royer R-122, R-122 Mkll and R-122V ribbon microphones.
In the past, this miking process necessitated the use of two mic stands, two clips, and considerable patience to get the mics properly aligned and in-phase with each other. The AxeMount eliminates these challenges and makes this classic miking technique easy to achieve.
Co-designed by Royer Labs and SLR, the AxeMount is manufactured by SLR in Canada.
'The AxeMount is one of those simple add-on tools that instantly makes you ask why we didn't think of it before,' says John Jennings, Royer's VP. 'When Martin Bak of SLR approached us with the idea, it was a no-brainer to partner on the development. This clip is rugged and easy to use and, most importantly, takes the guesswork/experimentation out of the phase alignment equation when combining a 57-style dynamic mic with a Royer R-121 ribbon mic, which is the combination for capturing all the energy and nuance of an electric guitar. The AxeMount facilitates a quick setup and it's inexpensive and easy to use, so I think everyone interested in using the R-121/dynamic mic method will want to have a few of these around.'
The AxeMount Dual Microphone Mount carries an MSRP of US$49.99 and is shipping now.
More: www.royerlabs.com