Townsend Labs has added ten further microphone models to its Sphere plug-in, the software component in the L22 microphone modelling system.
The v1.4 update now includes more than 30 individual models, and is supported by in all major native plug-in formats, as well as Universal Audio's UAD-2/Apollo and Avid's AAX DSP platforms.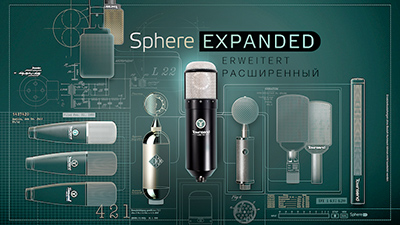 Among the new models, the LD-563is based on a classic German bottle microphone with interchangeable microphone capsule heads. The different polar patterns in the Sphere plug-in are based on the M7, M8 and M55k capsules. The LD-017T is a commissioned model of a current production Soyuz 017 Tube large-diaphragm microphone, created in partnership with Soyuz. Popular uses include vocals and acoustic instruments.
The DN-409N and DN-409U are based on two variants of the classic German 409 dynamic microphone, which is a favourite for rock vocals and guitar amplifiers. The older N-version is slightly more coloured, whereas the U-version from the 1980s has a smooth top-end. The DN-421N, DN-421S and DN-421B are based on three variants of the iconic German 421 microphone – a large-diaphragm dynamic, popular for bass and guitar amps, kick drums and toms, horns and vocals. The N-version is based on a classic 421 from the 1960s and has a slightly warmer sound than the 421B, which is based on a current production black 421. The 421S is the oldest of the three, with a script logo and a more coloured sound.
The DN-12A and DN-12E is based on a go-to choice for kick drum and bass instruments. The DN-12A is based on the original version from the 1950s and has a more coloured sound. The DN-12E is based on a later version with a slightly more 'modern' sound. The SD-416 is based on an industry-standard shotgun microphone, commonly used in the studio for voice-over and ADR duties.
'The Sphere Core Collection expands over time,' says Erik Papp of Townsend Labs. 'It is a way of saying 'Thank You' to our existing customers while providing more value to those that may have been waiting. The Sphere mic collection now covers an even wider range of uses. We are particularly happy to be able to add the Soyuz 017 Tube, which is a modern classic. We modelled the 017 in collaboration with Soyuz, and we are honoured that Soyuz chose Townsend Labs to work with and entrusted us to represent their sound.'
The Sphere L22 Microphone Modeling System can be purchased for US$1,499 (excl tax). The Sphere plug-in is free of charge and is available in major native plug-in formats – AAX, VST 2, VST 3 and AU. Also included are plug-in versions for Universal Audio's UAD-2/Apollo and Avid's AAX DSP platforms. The microphone can be used with any preamp and digital interface that has at least two microphone inputs.