Telefunken Elektroakustik has announced the Alchemy Series of microphones, billing it as the next generation of large-diaphragm tube condensers. The new TF29, TF39, TF47 and TF51models feature sonic profiles developed from the ground up.
The Alchemy Series is an evolution and refinement of prior models in the R-F-T Series (CU-29 Copperhead, AR-51 and AK-47 MkII), benefitting from more than a decade of in-house microphone design and production. With the combination of vintage microphone elements and modern fidelity and reliability, the Alchemy Series microphones each have a distinct sonic fingerprint.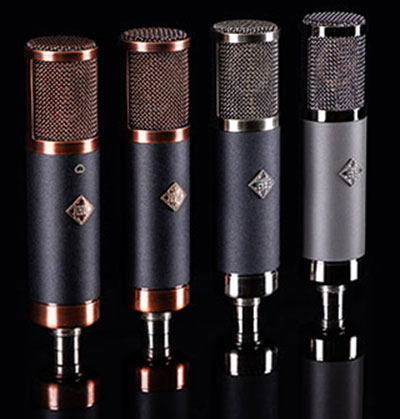 Telefunken has made numerous improvements sonically and mechanically to the Alchemy Series, tailored all the way down to the accessories. All models have newly designed custom head grilles for transparency and openness, hand-plugged circuit boards, and selected American and European vacuum tubes and transformers. They ship in a sleek, compact, protective case for easy transport and storage. Included are two modern mount options, microphone dust cover, high-flex 7m cable, and an American-assembled power supply.
The TF29 Copperhead is an evolution of the CU-29 Copperhead, an original Telefunken Elektroakustik design that won fans for its natural tonality and 'quality for price'. The TF29 is a workhorse microphone, accurately and honestly capturing vocals, acoustic and electric guitar, and drums.
The TF29 features a new old stock (NOS) American-made 5654W vacuum tube, all-brass K67-style capsule, and a premium Swedish-made Lundahl output transformer. These components create a balanced frequency response and natural tonality, making the TF29 a trusty go-to choice.
The TF39 Copperhead Deluxe is an expansion of the 'Copperhead sound' with the addition of a or membrane K67-style capsule, allowing selection of cardioid, omnidirectional and figure-8 pick-up patterns. This added feature set gives the TF39 greater flexibility and options in the studio. Sonically and component-wise, the two microphones are otherwise the same.
The TF47 is a new design based on the 'German sound', drawing inspiration from the historic U47 and M49. With a deep low end and a forward midrange, the TF47 is intended to add depth and presence to any source, particularly vocals, guitar amps and drums.
At the heart of the TF47 is an all-brass K47-style capsule, new old stock 5840W vacuum tube, and custom-made historically accurate BV8 transformer (as found in the U47). These components deliver a warm and punchy sound reminiscent of the U47 with a pleasant top end articulation.
The TF51 is a fresh take on the 'Austrian microphone sound' associated with the Telefunken ELA M 251E and C12. The TF51 continues this legacy, exhibiting a smooth midrange and airy top end, capturing every nuance in pleasant detail. This is a reliable first choice for stand out vocals, acoustic instruments, and percussion.
The 6072A vacuum tube (also found in the ELA M 251E and C12) is mated with an edge-terminated style capsule similar to the historic CK12. The output transformer is a custom German-made Haufe transformer, the original manufacturer for Telefunken.
The Alchemy Series is assembled in by a small, dedicated team of engineers and technicians. Each microphone is individually tested and auditioned. All critical components are quality controlled in-house before assembly, including capsule frequency sweeps, vacuum tube burn-in and noise grading. These high standards lead to extremely tight tolerances from microphone to microphone - something few in the industry can claim.