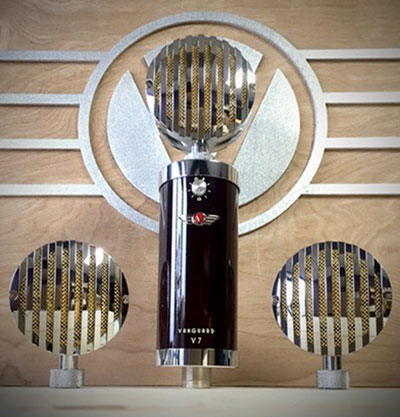 Following the microphones, the Vanguard V7 FET Multi-Pattern Multi-Capsule Microphone is being described by its maker as 'an ambitious leap ahead in creating a world-class FET microphone that will challenge any production microphone's musicality and noise floor, regardless of price point'.
The V7 features a patented interchangeable capsule system that is a modified version of the V34C Lolli pencil-mount capsule, which allows different capsule styles, sizes, and voicings to be selected operate in any of nine selectable polar patterns. This capsule-swapping design makes the V7 is claimed to make the mic the most versatile analogue microphone ever conceived.
The transformer-coupled solid-state circuitry is proprietary, combining desirable elements from several classic circuits. Vanguard has chosen Mil-Spec 'overkill' precision parts, including metal foil resistors and trimmers, film-and-foil capacitors, a large custom-wound Cinemag nickel-cobalt transformer, and a high-performance JFET. Deep-cycle cryogenic treatment is then given to selected components.
The V7 is housed in a vintage bottle style body, finished with signature deep-gloss Pinot Noir colour and accented by polished chrome trim. The rear of the microphone offers selectable 140Hz/70Hz roll-off filtering and a -10/-20dB pad. Included are the VLSM shockmount, a padded pinewood storage box, a microfibre mic sleeve, and locking case with space for additional capsule heads.
Each V7 consists of parts designed by Vanguard and sourced from respected US and worldwide component manufacturers. Final assembly and full testing and quality control is done in Southern California. Each V7 comes with a serialised, hand-filled certificate of our assembly, testing and control process.
The anticipated release of the V7 is Q2 2019.
More: vanguardaudiolabs.com