sE has announced three new V Series microphone products for the live sound and studio drum markets – the V Kick, V Beat and V Clamp.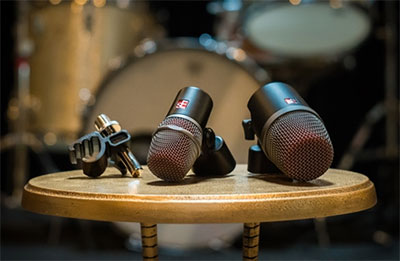 The V Kick claims status as the most compact and versatile drum microphone in its class, for use with kick (bass) drums or other large drums where low-frequency energy is predominant. Its integrated swivel joint allows for any required mic placement, and its supercardioid capsule provides a sound character tailored specifically for kick drums, which can be further shaped with the use of two voicing and high-frequency character switches on the rear side of the microphone. According to sE,, 'from warm and classic to modern and punchy, the V Kick gives you any kick drum sound you need'.
The V Beat is an ultra-compact dynamic microphone intended for use with snare or tom drums. Its capsule provides a 'highly detailed, extremely natural sound character on snares or toms of any size, with amazing off-axis rejection to minimise bleed from nearby drums and cymbals'.
Its space-efficient design and parallel XLR connector and stand mount give it the smallest footprint in its class, and its rock-solid swivel mount allows its angle to be adjusted with great precision – so it can be aimed at almost any part of the drum head to achieve whatever sound character is required.
The V Clamp is 'the fastest, most compact and most practical drum mic mounting system on the market', and is compatible with any popular snare or tom drum. It was designed as the companion to sE's V Beat for snare or tom miking, but it is also compatible with many other popular microphones. According to sE, 'its sturdy elastic clamp enables setup and tear-down within seconds, and its robust, bulletproof design is built for use on the road'. The height and rotation of the connected microphone can be easily changed by loosening the V Clamp's knob and adjusting the position of the rod, allowing perfect positioning for any desired drum tone, or to minimise pickup from nearby drums.
The V Kick has an MSRP of US$199/€219, the V Beat an MSRP of US$159/€166 and the V Clamp an MSRP of US$39/€39. All new V Series products are shipping in Q1 2019.
More: http://seelectronics.com