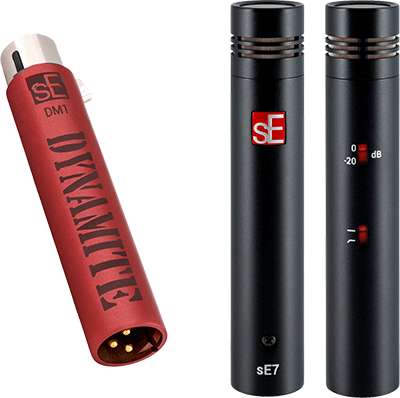 sE Electronics has announced the DM1 Dynamite, a slim, high-performance inline preamp that provides a consistent +28dB of gain for dynamic or passive ribbon microphones, and the sE7, an affordable small-diaphragm condenser microphone that is also available as a matched stereo pair.
The DM1 Dynamite is an active inline preamp intended to be inserted between a dynamic or passive ribbon microphone and a microphone preamplifier. It provides +28dB of discrete class-A gain, and offers nearly half the noise, significantly lower output impedance and consistent gain.
According to sE: 'The DM1 Dynamite is the perfect way to boost the signal from a passive mic for studio, podcasting, or on-stage use. It also reduces the microphone's output impedance to minimize the likelihood of interference, drive long cable runs, and provide significantly improved level in your signal path – without adding noise or coloration.'
The sE7 is a high-quality back-electret small-diaphragm condenser microphone intended for a wide range of studio and live applications with acoustic guitars, pianos and drums. 'With an optimised acoustic design, discrete class-A circuitry, versatile attenuation and low-cut switches and a transformerless output, it delivers clear, natural sound quality at all frequencies for any instrument, without suffering from "fizzy" highs or lack of low-frequency punch.'
An sE7 Matched Stereo Pair is also available, with microphones individually matched at the factory to provide the best possible stereo imaging. The sE7 includes a mic clip, thread adapter and windscreen, while the sE7 Stereo Pair includes two of each.
The DM1 is shipping worldwide with an MSRP of US$129. The sE7 (MSRP US$129) and sE7 Stereo Pair (MSRP US$259) are also shipping now.
More: http://seelectronics.com