DPA Microphones has added its smallest ever mic capsule to its d:screet and d:fine ranges, targeting applications in theatre, film and TV.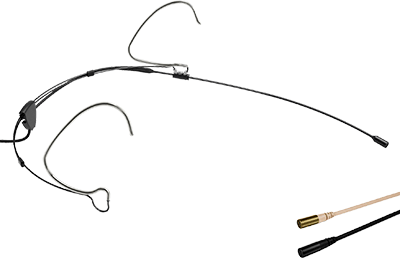 The d:screet Core 6060 and 6061 Subminiature Microphones and the d:fine Core 6066 Subminiature Headset Microphone are 3mm in diameter – 2mm smaller than DPA's existing 4000 series of miniature microphone products. All three incorporate the company's recently launched Core by DPA microphone technology that reduces distortion and increases dynamic range.
All three 6000 series capsules are omnidirectional and have a frequency range of 20Hz-20kHz. The d:screet 6060 lavalier has a noise floor of 24dB(A), while the d:screet 6061 lavalier and d:fine 6066 headset have noise floors of 26dB(A). This is similar to the company's existing 4000 series miniature mics. All three capsules are available in black and beige and more colours will be added at a later stage.
The d:fine 6066 also benefits from a completely redesigned lightweight, one size fits all headset that attaches over the ears for maximum comfort and has a spring mechanism to help it grip below the ears and to the side of the head for added security. With a fully adjustable boom, this new headset is very easy to fit and also has a redesigned cable attachment that allows the cable to run down the wearer's back, so it can't be seen.
Several years of research have gone into the development of these new capsules and during that time DPA R&D staff have visited theatres, film sets and television studios to learn first-hand exactly what their customers need from a miniature microphone.
'DPA has a big footprint in these industries, especially theatre where our microphones are regularly used on top Broadway and West End shows,' says DPA Product Manager, René Moerch. 'Everyone wants the tiniest microphone possible so that they are less visible when worn as a headset and are completely invisible when hidden in costumes and wigs. Customers also want is DPA's exceptional sound quality and durability, especially when it comes to cables that withstand damage and capsules that can be easily cleaned to remove stage makeup and sweat. Our 5 mm capsules already deliver on all these levels, so being able to offer a microphone that is just as good, but even smaller is generating huge excitement within these industries.'
DPA CEO Kalle Hvidt Nielsen describes the new capsules them as 'without doubt, the best miniature microphones DPA has ever made'.
'Compared to our existing 4000 series miniature microphones, the 6000 series represents a significant step forward,' he says. 'Developing these products has been a massive undertaking and the amount we have learned has really strengthened our R&D capabilities. We are proud to serve the market with such great tools.'
More: www.dpamicrophones.com