French loudspeaker manufacturer APG has announced two new modular compact line array systems – the UC206W (Wide) and UC206N (Narrow) to complete the existing Uniline range.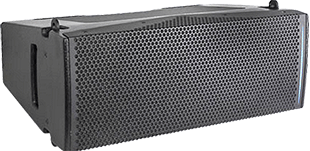 'We introduced two models instead of one so that professionals can adapt the horizontal coverage of the sound system depending on the acoustic environment, and focus the acoustic energy on the listening area,' says APG France Executive VP of R&D, Innovation & Marketing, Grégory Dapsanse. 'The difference between models lies in their respective constant horizontal acoustic dispersion – 105° for the wide version and 70° for the narrow one. Used as a main FOH system the UC206N can cater for music venues of up to 1,500 people while the UC206W will be the solution of choice for smaller venues from 100 people.'
The speakers use a smaller Isotop motor, APG's flagship technology. It is fitted with 5-inch and 0.5-inch neodymium drivers loaded on a new Isotop15 waveguide. The Isotop output is horn-loaded, allowing an extremely precise directivity control.
The UC206N is characterised by a 'narrow' horizontal dispersion of only 70°, constant from 450Hz–19kHz. The resulting directivity index is particularly well suited to improve critical distance as well as intelligibility indoors and to increase throw distance substantially for outdoor productions.
Inside the UC206W, a wider front horn design confers a wide horizontal dispersion of 105°, providing a very wide stereo image even in short and medium throw. The UC206W will be suitable for various configurations: it can be used on its own, clustered with the UC206N, for down fill, front fill or side fill and in conjunction with the larger Uniline systems. The UC206W is also suited to use in spatial and immersive sound systems based on the WFS (Wave Front Sculpture) concept.
Both speakers can be coupled with a new dedicated LF speaker, the UC115B, to deliver a full range performance and reinforce the low frequencies as required. Additional 18-inch APG subs can also be used for infra-bass extension when required.
More:
www.apg.tm.fr