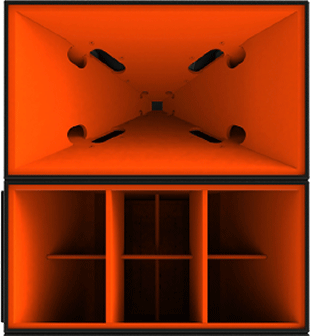 Pure Groove Sound Systems and Danley Sound Labs have collaborated on a loudspeaker system specifically for nightclub and dance music festival use.

Designed by Tom Danley, the Pure Groove by Danley PGD series presently comprises the PG-J94 with 18 drivers in a single horn offering 90° x 40° coverage and 140dB SPL (continuous), and the four-way PG-96, with 11 drivers in a single horn offering 90° x 60° coverage across a 70Hz–18kHz (±3dB) frequency range and 133dB SPL (continuous) across a 66Hz–22kHz frequency range (±3dB). Additional models will be released in the coming months.

These are accompanied by the BC218 subwoofer, loaded with four 18-inch drivers in two horns, and delivering 148dB SPL across a 22Hz–184Hz frequency range, and the DBH213, with two 18-inch drivers and delivering 147dB across 28Hz-400Hz.
In addition to their audio performance, the technology used in the PGD series claims 'greener' credentials. Danley's design promises 'outstanding power, clarity and definition' in a compact and flexible speaker. Additionally, the PGD series has integrated fly track, allowing speakers to be easily flown or stacked by a smaller crew in minimal time. This ultimately means less transportation and fuel consumption, reducing the overall carbon footprint of any event.
'Over the past two years we have been touring and experimenting with various speaker configurations in different environments,' says Damian Murphy, founder of Pure Groove Sound Systems. 'Working closely with the Danley team to develop a line focused on taking the nightclub and festival audio experience to the next level, we are truly honoured to have Danley design PGD exclusively for us. Having used hundreds of different sound systems over the past 20 years, I have no doubt that the PGD line will set a new standard in sound for the entire industry.'