The release of Anna takes the Eastern Acoustic Works (EAW) Adaptive Performance loudspeaker line into mid-sized applications for the touring, regional sound and permanent installation markets. Its compact footprint and lightweight make it well suited to permanent or temporary use in theatres, clubs, mobile staging and corporate A/V.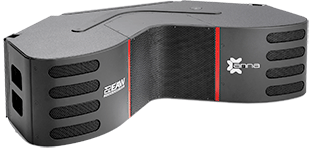 In addition to being a stand-alone PA, columns of Anna modules interlock side-by-side with columns of Anya modules (EAW's large format Adaptive Performance system) for supplemental fill or to horizontally expand Anya-based systems for out fill. Both Anya and Anna can be used with the Otto Adaptive subwoofer to form a one-family solution .
'Anna offers sound companies and integrators a product that can adapt to performance parameters electronically, allowing it to be used in any application,' says EAW President, Jeff Rocha. 'Just like Anya, columns of Anna hang straight and array horizontally. With Resolution 2 software, Anna can assess 3D coverage of a space, determine processing and configuration to achieve this, and then implement this in processing. It's a smaller, lighter Anya that extends the benefits of Adaptive Performance to venues of any size.'
Each Anna module includes 14 custom transducers – eight HF compression drivers provide a continuous line of apertures on a horn that expands to fill the entire face of the enclosure, four 5-inch MF cone transducers combine with Radial Phase Plugs and Concentric Summation Array technology to sum coherently with the HF wavefront, and dual high-power 10-inch LF cone transducers employ Offset Aperture loading to extend horizontal pattern control well into the lower octaves.
Anna enclosures also have 14 built-in amplifier and processing channels providing independent power and control of each loudspeaker component. Resolution 2 software controls the processing of each acoustic cell individually to generate the ideal coverage pattern for the venue while minimising the impact of the room's acoustics.
'Anna is so compact that it is easy to assemble vertical columns side-by-side to form 3D arrays, expanding horizontal coverage up to 360°,' Rocha says. 'The wide horizontal coverage will blanket a venue with fewer columns, minimizing line-of-sight issues.'
Anna modules are sold in groups of 24 or 12 enclosures with power and data distribution, dollies, covers, flybars and cabling included.
More:
www.eaw.com