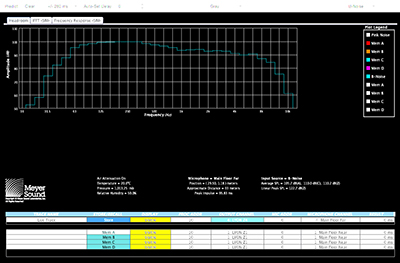 In addition to an updated user interface and new features that streamline workflow, Meyer Sound's Mapp XT audio system design tool determines the maximum levels to which loudspeaker systems can be driven while maintaining linear performance.
'It's long been our vision to produce highly accurate sound systems that amplify the source material faithfully at all output levels,' says Meyer Sound CEO, John Meyer. 'Mapp XT provides a whole new way of looking at headroom by showing the full available power capacity of a system while maintaining linearity and regardless of equalisation in digital processing.
Headroom information is the most significant new feature in Mapp XT, and can be viewed from the perspectives of two different input signals. These include the traditional broadband pink noise and B-Noise, a new input signal designed to better represent the most common input spectrum in real-world applications.
'As a test signal, pink noise has been an excellent but conservative way for showing system behaviour and it rarely reflects actual show content,' Meyer says. 'Introducing B-Noise data and headroom information in Mapp XT is an important step to provide measurements that are independently verifiable and represent the linear performance of Meyer Sound systems in real-world applications so customers get the best results every time.'
Key features:
· Auto-Splay allows selection of starting and finishing angles, and automatically calculates the optimum splay angles between cabinets.
· Factor of Safety shows whether a proposed Leo or Lyon array is within limits for the given configuration and angle to help meet safety standards (5:1, 7:1, and BGV-C1).
· Gradient Subwoofer Array Tool configures cardioid LF arrays with 500-HP, 900-LFC and 1100-LFC.
· Trace Store & Recall provide fast comparisons of different configuration options.
· Relative Phase Response data allows different elements to be combined more easily.
· PDF Export promotes sharing of system designs among project team members.
Mapp XT is launched in conjunction with the new Leopard and 900-LFC linear line array system.

See also:
Meyer Sound Leopard/900-LFC loudspeaker systems
More:
www.meyersound.com