After its Frankfurt preview, Alcons Audio has reeased the BQ211 subwoofer, which extends the low-frequency response of the company's permanent and portable pro-ribbon systems. It is the also the introduction of the forthcoming LR24 mid-sized pro-ribbon line-array touring system.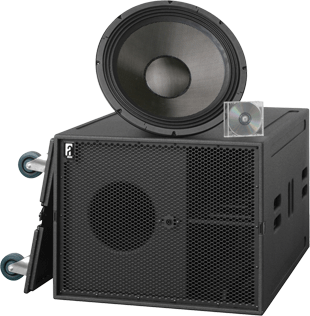 The BQ211 is a double-tuned, quarter-wave loaded subwoofer system which is designed to offer maximum, prolonged high SPL performance from a comparatively small footprint. Using the latest materials and design innovations, it contains a very large displacement 21-inch Neodymium transducer with an all-carbon fibre cone, for high pressure loading, plus a force-ventilated 5.3-inch voice-coil mounted in a vented triple-spider frame. This provides an optimised low impedance and a port-vented magnet structure, to reduce power compression and prolong performance.
The internally-braced 15mm birch cabinet features double-tuned, high-pressure loading, through a rounded 236mm/9.3-inch diameter low-tuned bass-reflex vent and wide, high-tuned quarter wave tunnel. This provides optimised breathing at high SPLs, yet keeps the total system weight to a minimum. Finished with Alcons Durotect flexible and scratch-resistant coating, the cabinet has slider feet on the bottom and sides, enabling the stacking of multiple BQ211's into vertical low frequency arrays. The front-positioned NL4 connector caters for easy 'reverse connection' in cardioid arrays, enabling controlled directional LF dispersion.
The BQ211 is powered and controlled by Alcons ALC series amplified loudspeaker controllers, whose SDP (Speaker Drive Processor) circuits offer BQ211-specific drive processing with response optimisation, dedicated power and excursion protection, hybrid filtering and cardioid processing. Additionally, through the SIS (Signal Integrity Sensing) circuit, the cable-length and connector resistance between the BQ211 and ALC is completely compensated for, with a damping factor of 10.000, further increasing response accuracy.
With a frequency response of 33Hz to 150Hz (±3dB), the BQ211 measures 590 x 746 x 986mm (23.2 x 29.4 x 38.8-in.) and weighs 72kg/159lb.
More: www.alconsaudio.com