French loudspeaker manufacturer APG has sdded two models to its Dispersion Series range of multipurpose speakers. The new generation DX15 and DX12 replace the DS15 and the DS12S respectively, bringing the Dispersion Series into line with the flagship SMX15.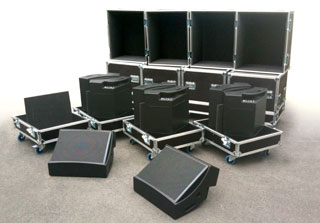 The DX15 is a high-power, two-way, compact monitor speaker, featuring a 15-inch LF/1-inch HF coaxial loudspeaker unit. Characterised by its high efficiency and 'studio monitor–type' performance (extended bandwidth, linear frequency response and minimal distortion), the DX15 offers total flexibility for stage monitoring and FoH applications, with or without subwoofers. Its acoustic performance, combined with sophisticated ergonomics and rigging possibilities, make it particularly versatile. The asymmetric cabinet design enables two different angles as a floor monitor (30° for close-field and 45° for far-field applications), or it may be pole-mounted or flown for use as a FoH, delay or fill. When combined with subwoofers, the DX15 is capable of high-level performance in mid- and large-sized venues. A range of dedicated processors is available depending on the application.
The DX12 features a 12-inch LF/1-inch HF coaxial loudspeaker unit, which produces a coherent acoustic field with a conical dispersion of 100°. Offering the same asymmetric cabinet design and ergonomics as the DX15, the DX12 is as versatile but in a lighter, more compact format. It can operate as a stand-alone system, either as a stage monitor or FoH system, or as a complement to the main PA, or it may be combined with subwoofers to create an extremely compact medium power PA system with an excellent power/size ratio. The DX12 is compatible with DX15, and also has its own dedicated processors.
Both models can be used with different levels of processing, depending on the application. They can be used without any processing for vocal applications, with SPX12 or LPDX12 processors for medium and high-power music and live sound or with APG's DMS26 digital processor for medium power distributed sound systems.
More: www.apg.tm.fr