JBL Professional has introduced the VTX Line Array Series for portable and fixed-venue system applications.

'Of all the achievements JBL has made over the years, the VTX Series stands as a milestone in the practical application of creative engineering,' says Tour Sound Senior Manager, Paul Bauman. 'VTX truly represents the next generation in line arrays – an evolution of JBL's industry-standard VerTec that heralds a new era in performance, system integration and user-friendliness.'
First in the VTX Line Array Series is the VTX V25 – a full-size, three-way, high-directivity line array element using two 2kW, 15-inch Differential Drive woofers mounted in die-cast aluminum baffles, with four 8-inch Differential Drive mid-range transducers and three new D2 Dual-Diaphragm Dual-Voice-Coil Compression Drivers mounted on a third-generation waveguide and patented RBI Radiation Boundary Integrator assembly.
At the heart of VTX is the D2 Dual Driver, which claims to'dramatically improve' the sound and performance of high frequencies. D2 overcomes the limitations of conventional compression driver technology – limited high frequency extension due to mass of the diaphragm and voice coil, and distortion characteristics that arise due to dome breakup modes.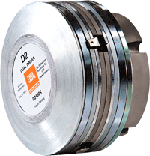 JBL's Radiation Boundary Integrator combines the high-frequency and mid-range sections of the VTX V25, so the transition across each band is uninterrupted and seamless. A patent-pending, tuned resonant absorption chamber (TRAC) is integrated into the waveguide itself, effectively eliminating throat-related cancellations due to back pressure from the mid-range section. VTX's refined RBI waveguide implementation provides improved horizontal coverage – broader and more stable.
The VTX Series draws from the expertise and integration of the range of Harman Professional audio technologies. As a result, in addition to the best sound possible, set-up, tuning, networking and controlling the VTX Series is efficient, intelligent and truly a system solution. For example, the VTX Series features Crown Audio VRack DSP and amplification. VRack is a rugged touring rack fitted with three Crown I-Tech HD Series power amplifiers, power input panel, and custom-engineered input/output panels that is available in two configurations: VRack 12000 and VRack 4 x 3500 are loaded with three IT 12000HD and three IT 4 x 3500HD amplifiers, respectively.
Apart from the performance advantage of a standard package ensuring that VTX Series enclosures are optimally powered and processed, VRack ensures compatibility for cross rental between VTX Network Partners. Since VRack is supplied with all components installed and internally connected, there is also no need for laborious rack building; no chance that a component might be improperly connected; and a dramatically lower chance of connection failure.
The workflow paradigm of the Performance Manager interface guides the system designer through the complete system design, configuration and control process and, in many ways, the entire process feels and acts like a simple step-by-step wizard.
Using Harman's JBL HiQnet Performance Manager control software and with reference to measured spatial response, circuit level gain and JBL Line Array Control Panel tapering adjustments are performed as a first step in system tuning with the VTX V25. Once SPL and frequency response has been optimised on a circuit level, global equalisation can then be applied to the entire array to compensate for room-related effects. This patented approach to system tuning has been specifically designed into the workflow of Performance Manager.
VTX's proprietary SAFE suspension system is streamlined for speed and efficiency with improved hardware for faster setup with fewer pinning operations and greater security. A custom-designed protective cover and dolly makes transport easy and the suspension process fast, efficient and safe.
All suspension hardware is integrated into the enclosure and strategically positioned for fast and secure operation. Front flip hinges and captive rear hinge bars utilizing a unique Angle Stop Mechanism (ASM) allow for efficient assembly that is not only secure, but anti-rattle. Also included is provision for mounting a Laser Sighting Module accessory for greater ease and precision in array focus and system tuning.
The VTX Series complies with Harman's GreenEdge initiative, combining environmentally friendly design with dramatic energy savings without compromising the excellent performance for which Harman products are known.
'The VTX Series is a result of JBL's continued effort to deliver more powerful, more compact, lightweight and flexible sound reinforcement systems,' Bauman says. 'JBL has invested heavily in the tools necessary to design, measure, evaluate and refine components throughout the development cycle. In addition to state-of-the-art CAD systems, we have developed proprietary R&D tools unique to JBL. With these tools, we are assured of meeting each product's intended design goals, able to find opportunities for even better performance, and perhaps most important, have the resources to develop technologies that never existed. The VTX System is a premier example of this.'
See also:
JBL D2 Dual Driver
More: www.jblpro.com