The L-Acoustics ARCS II uses the company's Wavefront Sculpture Technology in a constant curvature line source solution.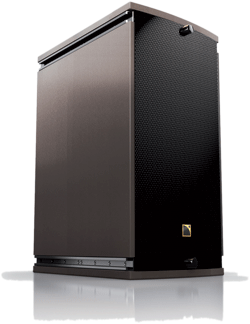 The bi-amplified enclosure is based on a two-way active design, and offers a number of improvements over the previous generation including L-Acoustics' K1 grade transducers for increased SPL (140dB) and lower weight (50kg). It also features a new front grille for enhanced durability and appearance, and is driven by a single factory preset to efficiently accommodate any application.
An ARCS II line source can be deployed either horizontally or vertically, with a coverage angle proportional to the number of enclosures in the array (N x 22.5°). On the other plane, vertical or horizontal respectively, the ARCS II line source provides an asymmetrical coverage angle of 60° (20°/40°). The orientation of the ARCS II enclosures within the array determines asymmetric distribution, allowing the use of a horizontal ARCS II line source either for upward or downward coverage.
ARCS II can be quickly deployed as a tightly-packed FOH system for medium-throw applications with high SPL, LF and stereo imaging. Other applications include distributed system, centre cluster for theatrical work, sidefill monitoring, flown or stacked centre fill, stereo front fill, offstage fill or delay system for concert audiences in stadia and arenas. Intended for medium to large rental productions, it claims 'remarkable power, bandwidth and coherence', along with flexible and predictable coverage.
The LA-Rak touring rack and the LA8 amplified controller preset library provide the drive system for ARCS II. Features include the L-Drive intelligent two-way transducer protection circuit (peak and RMS limiting) and the Array Morphing EQ interface, allowing quick adjustment of the tonal balance of the system to produce a reference curve or ensure consistency of the system's sonic signature with multiple arrays of different types and sizes.
The system is scheduled to ship in October 2011.