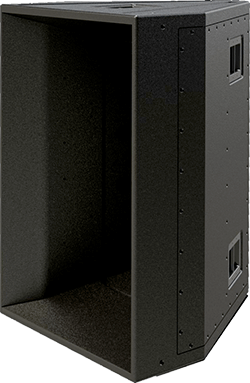 Following the release its recent GH-60 Genesis Horn – which claims the benefits of the a array without line array shortcomings – Danley Sound Labs is introducing the higher output/full-range J3-64 Jericho Horn.
The J3-64 is built upon the same three patent-pending technologies – Synergy Horn, Paraline, and Shaded Amplitude Lens – and uses six 18-inch low-frequency drivers, six 6-inch mid-frequency drivers, and two 4-inch two-way, high-frequency drivers. These can be driven by a 20kW amplifier module and/or user-adjustable DSP.
The use of the three technologies allow a single Genesis or Jericho Horn to claim coverage out to multiple hundreds of feet. This is accomplished as Shaded Amplitude Lens Technology allows as much as 20dB of gain out of a single cabinet, to be evenly distributed over a very large listening plane. Company founder Tom Danley developed the Synergy Horn technology employed in the company's flagship SH-50 full-range loudspeaker, along with the Paraline and Shaded Amplitude Lens technology that makes the new horns conform to three critical requirements: high output, appropriate SPL by angle so that everyone from the front row to the back row receives the same impact, and fidelity that impresses even audiophiles.
'In every respect, the Jericho Horn is a vastly better alternative to the problematic line array solution that the industry has settled for,says Mike Hedden, president of Danley Sound Labs. 'Its output is monstrous, yet so pleasant to listen to. I challenge any line array solution, at any price, to even approach the Jericho Horn's performance.'
More: www.danleysoundlabs.com