Amate Audio has added the N318 to its Nítid active loudspeaker series – an integrated, full-range, three-way active PA cabinet, with 18-inch and 12-inch transducers, a 1.75-inch diaphragm horn-loaded compression driver, with onboard third-generation class-D amplification and DSP system control platform. The N318 delivers 3.2kW of power and 133dB SPL.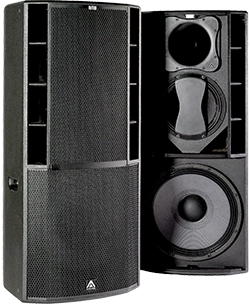 The cabinet configuration – an evolution of vintage 2x15-inch systems – is one that Amate Audio has developed consistently over many years; the format having been a feature of its product portfolio through several iterations. With improved specifications and several new design innovations, the N318 claims an 'all-round leap in performance in terms of sonic power and quality, operational versatility and ease of use'.
A more powerful amplifier platform – 2.4kW (LF) + 800W (MF/HF) – drives a 4-inch voice coil 18-inch LF driver, 3-inch voice coil neodymium 12-inch driver, and an all-new PM4 1.75-inch diaphragm compression driver, mated to a long-throw horn. The mid-range transducer assembly features a purpose-designed phase plug for the 12-inch driver, creating two separate in-phase output sources for better controlled horizontal directivity. Increased compression in the 12-inch driver also boosts its output.
Improved output levels and frequency consistent directivity combine with higher signal resolution and audio fidelity, so that the N318 delivers exceptional sound quality over a longer throw with wider horizontal coverage. Characteristics that equip the N318 for wide range of medium and large scale indoor and outdoor sound applications, with equal efficacy in FOH PA and side-fill and drum stage monitoring roles.
DSP system control is accessed via proprietary SensitiveTouch keypad technology (with no mechanical components or moving parts) from the rear mounted control panel with LCD, and includes five-band EQ, crossovers, up to 118ms/40m delay line, limiter, gain control, mute and input dynamic compressor. Additionally, powerful application optimised plug-and-play presets enable virtually instantaneous setup and optimum operation.
The ultra-thin speaker grille design created by Amate Audio's research team, provides robust protection but with a 67 per cent perforation coefficient, offering sonic transparency. The Polyurea finish provides durable protection for the birch-ply cabinet, while electronic circuits and controls are smartly protected against moisture. The backlit logo can be switched off or switched to indicate when the system is limiting. Amate Audio's universal switch mode power supply, providing 90 per cent efficiency power supply to the amplifier circuitry for maximum power delivery with minimum consumption, enables operation with any mains condition between 85 and 265V AC.
Despite the N318's displacement and power, it weight 67kg and with its tilt and roll design – with fixed rear mounted wheels and ergonomic handles – a single person can handle and rapidly move the cabinet into position. Additionally, M8 rigging points provide for easy flying.
'An easily deployed all-in-one solution, the system can be rapidly moved into position, stacked or flown, to provide a high-quality, high-output main PA or stage fill monitors,' says VP and Chief Technical Officer, Joan Amate. 'Its power and coverage makes equally ideal in venue or outdoor event applications.
'This is a speaker configuration that has served us well over the years and that we have continued to re-engineer and evolve. The N318 takes the format to a new power and performance high.'
More: www.amateaudio.com