The RCF has expanded its HDL System with the HDL 28-A compact bi-amped two-way active touring system.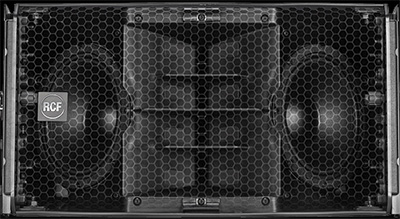 Targetting a wide range of applications both indoors and outdoors, the deign places an emphasis on vocal intelligibility with its two 8-inch woofers and an 3-inch titanium compression driver. Following the HDL 30-A philosophy, the HDL 28-A shares the composite material cabinet, the zero-degree phase, and ultra-linear amplitude response. The built-in 2.2kW class-D amplifier delivers up to 135dB SPL and has a low weight for easy handling and flying.
The RCF HDL 28-A features RCF transducers with neodymium magnets. High frequencies are handled by the ND 840 3-inch diaphragm titanium compression driver that has a 1.5-inch exit throat. It crosses over at 750Hz to two 2.5-inch voice coil neodymium 8-inch woofers that operate handling down to 65Hz.
The 4Path-designed waveguide allows precise coverage of 100° x 15° while also delivering a linear high-frequency response. The shape of the four ducts forming the guide creates an isophasic load from 750Hz to the highest audible frequencies.
RCF's class-D power amplifier features a solid machined aluminium structure that stabilises the amplifier during transportation and also contributes to fan-less heat dissipation. All the HDL amplifiers feature an SMPS power supply section to produce maximum output and minimum weight.
The rigging concept derives directly from the HDL 30-A and HDL 50-A. The integrated mechanics are both fast and reconfigurable, allowing the system engineer to create J-shaped and spiral arrays. The hardware is designed for easy and fast set-up. The angle can be adjusted on the ground before the system is hung and slipped automatically into the correct position as the array is pulled up. Up to 20 HDL 28-A modules can be fastened on a single flybar.
The symmetrical design of the cabinet produces identical left and right coverage. The component positioning and special DSP crossover filtering of the HDL 28-A achieves directivity without spots of break up or attenuation, while the front baffle provides coplanar woofers, controlled LF dispersion and a central space to host the 4Path waveguide. The heavy-duty front grille is powder coated. A special transparent-to-sound foam backing inside helps to further protect the transducers from dust. For weatherproof capabilities, a rain cover is available.
RDNet is a proprietary protocol for RCF products that provides straightforward monitoring and intuitive control of the audio system down to every device/object. Each device has its DSP, giving the possibility to address specific presets or parameters change to single or groups of objects. A network user can change level, delay, EQ (including FiR) and other parameters like the advanced subwoofer configurations. Not only for loudspeakers: it is possible to control routing and parameters of multiple RCF devices, like digital matrixes or amplifiers.
RCF speakers are designed using proprietary and advanced FIR filtering technology – the FiRPhase algorithm optimises dynamics, amplitude and phase patterns, ensuring at the same time minimum system latency.
Key specifications:
2.2kW two-way amplifier.
135dB max SPL.
100° x 15° coverage.
1.4-inch Titanium compression driver/3-inch voice coil.
2 x 8-inch Neodymium woofers/2.5-inch voice coil.
RDNet control and management.
750Hz crossover point.
Weight: 18kg/39.68lbs.
More: www.rcf.it