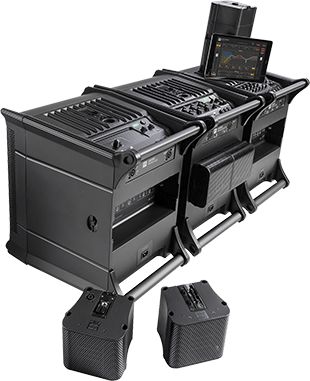 HK Audio has released a new iteration of its Lucas Nano family of portable, stereo PA systems – the Lucas Nano 302, Lucas Nano 305 FX and Lucas Nano 605 FX, join the established 608i and 602 models.
The Lucas Nano family now comprises five models across two power classes. All follow the Lucas Nano format, claiming high audio performance in an ultra-compact and lightweight package. Each model includes an active subwoofer that powers the two satellites which, when not in use, are stored within the subwoofer itself.
The Lucas Nano 605 FX is aimed at applications ranging from musicians and bands to DJs and public speakers and features five inputs, built-in reverb effects and Bluetooth audio streaming. For musicians, DJs and entertainers who want their own external mixer, DJ controller or playback device, the Lucas Nano 602 presents a simple interface and also makes a practical second unit in a Twin Stereo System.
The Lucas Nano 305 FX and 302 are slightly smaller in size, power and weight than their 605FX and 602 counterparts, but include the same input options and features. They are rractical to transport and set up in a huge variety of locations.
'The second generation of the Lucas Nano family will make anyone's world sound bigger and better,' says HK Audio Senior Product Manager, Rüdiger Forse. 'We've built in highly requested features, such as reverb, to some models, and our groundbreaking technologies like the Multicell Transformer on the 608i, 605FX and 602 systems make sure your performance will sound incredible, wherever and however you use them. Plus, whether you're a musician, public speaker, fitness instructor or a home entertainment fan, Lucas Nano's ease of handling and the various setup options mean there's a solution for you – and up to 200 friends.
The Lucas Nano 600 and 300 models will now be phased out, and replaced by the 605 FX and 305 FX models. However, the models will combine with the new models, for example in a Twin Stereo System.
The Lucas Nano 608i, 602 and 302 are shipping now, the the 305 FX and 605 FX available in late Q4, 2017.
More: http://hkaudio.com