FBT Audio has released the SUBline range of bass reflex subwoofers, promising greater power from smaller, more portable enclosures, using class-D amplification, switch-mode power supplies and DSP presets for accompanying full range enclosures.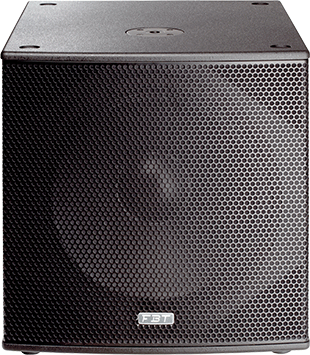 Comprising two passive and four active models, SUBline boasts road-ready, tour-grade birch plywood construction, integrated carrying handles and optional wheels, plus in/out stereo connectors facilitating the use of a single sub in left-right stereo set-ups.
The 12-inch SUBline 112SA is rated at 700W RMS and delivers 130/133dB SPL with a frequency response of 40Hz–140Hz. Also rated at 700W RMS, the 15-inch SUBline 115SA boasts an SPL output of 132/135dB with a 40Hz–140Hz frequency response. Both models offer users the choice of eight presets from the onboard DSP plus multiple EQ modes with two LPF crossover settings and a cardioid configuration.
The larger 18-inch SUBline 118SA is rated at 1.2kW RMS, producing 134/137dB SPL within a frequency response of 33Hz–100Hz. Six DSP presets are available with four EQ settings, two LPF crossovers and six step digital delay up to 3.5m. The largest of the active models is the 218SA double 18-inch, rated at 1.2kW RMS, producing 140dB peak SPL across 30Hz–120Hz.
For applications requiring low-end support without integral amplification, the 1.2kW 118S and 218S are calibrated for se performance with FBT's DLM26 Digital Loudspeaker Management processor. The 18-inch 118S produces 133/136dB SPL, as compared to the 139/143dB SPL delivered by the double 18-inch 218S. All of the subwoofers include integrated M20 top mount speaker sockets.
'SUBline represents real Italian innovation, with incredibly compact yet powerful subwoofers that open up entirely new possibilities for both portable use and fixed installations,' says, of FBT Audio (UK) MD, Mark Parkhouse.
More: www.fbt.it/en