The new B&C Speakers 12CXN88 and 15CXN88, high-output coaxial transducers offer larger motor loudspeaker options, featuring a long throw, 88mm (3.5-inch) voice coil woofer, combined with a 75mm (3-inch) diaphragm high-frequency driver.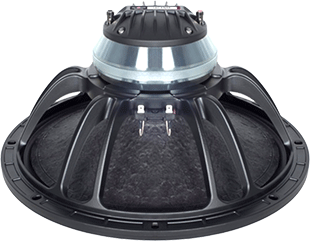 'With the success of our 88mm coil NDL series woofers in 2016, making coaxials with an 88mm low frequency coil was a logical progression', says B&C Speakers Director of Engineering, Alessandro Pancani. 'The 12CXN88 and 15CXN88 offer an excellent balance between HF and LF output, allowing cabinet designers to increase performance without compromise.'
These high sensitivity coax units are rated at 1kW (programme power), with an 80° nominal coverage pattern. The shared Neodymium magnet assembly features an aluminium demodulation ring for reduced distortion, a double silicone woofer spider with optimised compliance, a waterproof woofer cone (front side), and a pure titanium high-frequency diaphragm.
The 12-inch 12CXN88 claims 80° nominal coverage with 50Hz-18kHz response and 100dB sensitivity. The 15-inch 15CXN88 offers 80° nominal coverage and a 45Hz-18kHz response with 99dB sensitivity.
More: www.bcspeakers.com