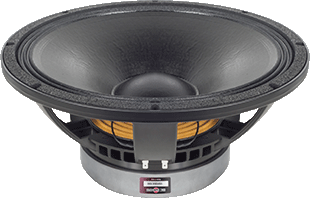 Building on the recently released 18RBX100 high-performance ferrite subwoofer, B&C Speakers has added a 15-inch driver to its RBX range – the 15RBX100.
'The RBX series motor structures were designed from the ground up using creative industrial design.' says B&C Speakers Director of Sales, Ron Tizzard. 'By making the product easier to manufacture, we have been able to invest the savings in providing a feature set that significantly outperforms other products in this price category.'
The 15RBX100 high-output subwoofer features a 25mm high, 4-inch (100mm) diameter copper wire voice coil that is combined with a laminated double silicone spider, water resistant curvilinear cone, and triple roll surround for greater excursion and linearity. The corrosion resistant motor structure incorporates an aluminium demodulation ring that effectively controls inductive rise as well as harmonic and intermodulation distortion. This subwoofer can be used for a wide variety of applications, including compact vented enclosures as small as 80 litres.
More: www.bcspeakers.com