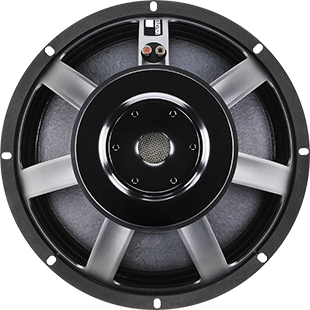 Celestion has extended its next-generation CF series of ferrite magnet, professional loudspeakers with the release of the CF1840H LF driver.
The design uses a cast aluminium chassis and features a 4-inch/100mm multi-layer voice coil (for superior cooling) to provide 1kW (rms) power handling and 98dB sensitivity. It is available in 4Ω impedance,
The CF1840H also features Celestion's proprietary BAV (Balanced Airflow Venting) to provide enhanced magnet assembly cooling, further improving performance by minimising thermal compression.
Delivering long throw (Xmax) as well as high sensitivity, CF1840H is designed to be a multi-purpose LF driver offering superior performance when used in a reflex, horn-loaded or band-pass subwoofer; while being equally at home as a bass unit in a large multi-way system.
Developed at Celestion's headquarters in the UK, all CF series loudspeakers are designed using specialist FEA (Finite Element Analysis) modelling techniques, enabling the Celestion engineering team rapidly to achieve genuine increases in performance, including greater efficiency and low harmonic distortion.
More: www.celestion.com