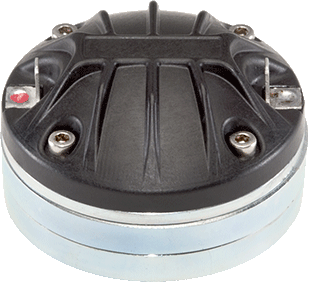 B&C Speakers has released the DE110 mini high-frequency driver.
At 60mm in diameter, the new driver is expressly designed for applications where size and/or weight are critical issues. 'With more of our OEM customers using multi-driver horns or combinations of small-format woofers and HF drivers in line array columns, there was a clear demand for a high-quality mini driver,' says Ron Tizzard, Director of Sales.
The 1-inch exit DE110 features a 36mm, high-temperature polymer diaphragm with a proprietary rib design that smooth the frequency response above 8kHz, resulting in very flat response curve from 2kHz-18kHz. The DE110 is rated for 50W of programme power – 25 per cent greater than the previous generation of drivers from B&C.