The first 21-inch driver to be included in Celestion's range of cast aluminium, neodymium magnet professional audio drivers, the NTR21-5010JD is a bass/sub-bass driver, aimed at high quality-sound reinforcement and medium to large-scale toursound applications.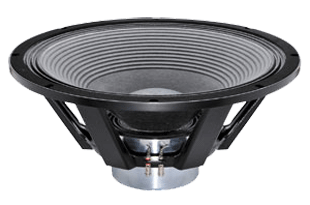 Offering a substantial 1.6kW power handling ands 98dB sensitivity, the NTR21-5010JD features a 5-inch copper wet-wound, Inside/Outside voice coil for optimum heat management. Additionally, this model has been designed with a double suspension and 'multi-roll' surround to provide high linearity at extremes of excursion. A lightweight, new-design cast aluminium chassis, combined with an extremely efficient magnet assembly results in very high power-to-weight ratio.
Celestion has developed the NTR family making extensive use of advanced FEA modeling techniques to achieve important performance advantages. With particular focus on linear excursion via optimised suspension geometry and magnet topology, the NTR drivers provide application-specific control, delivering more low frequency output, reduced distortion and increased longevity.
In addition, heat management technologies applied by Celestion to minimize the impact of thermal compression, ensure a very low distortion performance, whatever the application.
More: www.celestion.com