With the introduction of the VTX Line Array Series, JBL has unveiled the D2 Dual Driver – the device that is credited with making dramatic improvements in high-frequency sound and performance claimed by the VTX Series.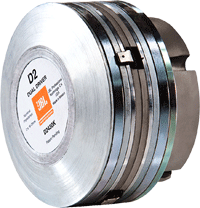 The D2 Dual-Diaphragm Dual-Voice-Coil Compression Driver addresses the limitations of conventional compression driver technology – limited high frequency extension due to mass of the diaphragm and voice coil, and distortion characteristics that arise due to dome breakup modes. Merging two compression drivers into a single, compact transducer with a single acoustical output, the D2 Dual Driver uses two voice coils, each with its own lightweight, polymer, annular diaphragm, its own magnet assembly and its own specialised phasing plug. Instead of the large and 'heavy' single-voice coil metal dome diaphragm of conventional compression drivers, D2 is driven by two light but strong voice coils, two motive 'forces' instead of one, acoustically connected to a single exit chamber.
'With two smaller diaphragms and voice coils working on the same acoustical load, the VTX Line Array Series provides high efficiency and SPL, plus increased extreme high-frequency reproduction due to the smaller moving mass of each diaphragm and voice coil,' says Paul Bauman, Senior Manager for Tour Sound, JBL Professional. 'The D2 Dual Driver is a radical departure from traditional compression drivers and represents a monumental breakthrough in loudspeaker system design.'
The two annular polymer diaphragms have the same radiating area as a conventional single dome, and overall output and power handling are dramatically increased due to the lower moving mass and enhanced heat transfer obtained with two separate voice coils. The result is a compact compression driver with dramatically improved efficiency, power handling, smoother, extended high frequency response and significantly lower levels of nonlinear distortion.
With the theory supported by measurement, D2's performance has also been subjected exhaustive subjective listening tests, demonstrating improved sound quality over traditional metallic, mono structure drivers. D2 provides an extreme output advantage over conventional systems allowing significantly higher array power density.
See also:
JBL VTX Line Array Series
More: www.jblpro.com