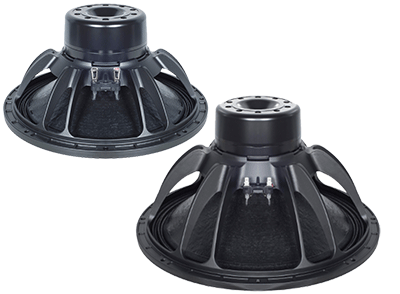 Loudspeaker driver manufacturer B&C has expanded its DS Series of high-motor strength subwoofers with the release of 4-inch coil motor options.
The DS Series uses a new, longer, four-layer aluminium voice coil, resulting in more energy in the gap, higher sensitivity, lower distortion and better overall performance.
The new 15DS100 and 18DS100 both feature a 37mm long, 4-inch diameter (100mm) copper clad aluminium wire voice coil, ventilated voice coil gap, and an aluminum demodulation ring to reduce distortion. Both are rated for 1.5kW AES power, ~97dB sensitivity, and greater than 14mm of Xvar excursion. Both new models are available in 8Ω or 4Ω impedances.
'These high-energy subwoofers are significant step forward from similar models in the B&C range, and perfect for use in reflex- and horn-loaded cabinets where small cabinet size and low0frequency extension are priorities,' the company says.
More: www.bcspeakers.com