Beyma has released a new family of woofers with proprietary Maltcross technology, offering 8-inch, 10-inch, 12-inch and 15-inch models with very low-weight neodymium motor structures.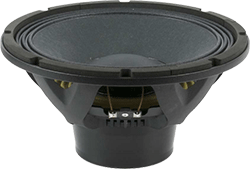 The aim of the drivers is to provide high efficiency bass and mid/bass units for use in high-performance systems where high sensitivity, high linearity, low distortion, low weight and high total SPL are required.
The 8MC500Nd uses 2.5-inch (63.5mm) coil, providing a sensitivity of around 98dB, power handling of 500W AES and weighs around 2.8kg. The 10MC700Nd, 12MC700Nd and 15MC700Nd are 3-inch (77mm) coil models, with sensitivities between 97dB and 99dB, nominal power handling of 700W AES and weights of between 3.6kg and 4kg.
The Maltcross technology gives the new drivers a very efficient cooling of the voice coil, which reduces the losses by power compression and results in a more constant SPL, offering performance similar to models with larger motors and coils, which is an objective advantage in weight and performance.
More: www.beyma.com