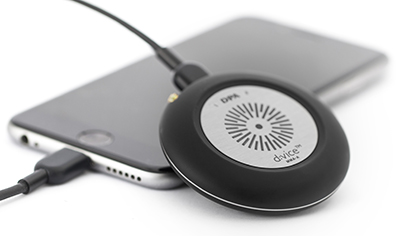 DPA Microphones has announced the d:vice MMA-A Digital Audio Interface for any iOS device, Mac or PC computer, promising 'unprecedented audio quality' for live and mobile journalists in the field.
Bringing an audio solution to pictures and videos captured on smartphones for news broadcasts, the d:vice MMA-A captures or streams audio in quality previously only available in the studio. It offers is two channels of microphone preamplification and A/D convertersion with mono, dual and stereo capabilities. It also comes with interchangeable lightning and USB cables for connectivity. Its MicroDot inputs allow the d:vice to be connected to all DPA miniature microphones, including the d:screet Miniature, d:fine Headset, d:vote Instrument and the d:dicate Recording microphones with the optional MMP-G preamp.
At about two inches in diameter, the d:vice is ultra-compact (easily fitting into a pocket) and is controlled through a remote application on any iOS device. A DPA app is available for download from the Apple App store. The app makes the users' job even easier, allowing them to store gain settings and low-cut filters for ongoing and future use in dedicated presets. Third-party applications can be used to accomplish specific tasks, including but not limited to live broadcast and high quality recordings.
'This is the first pocket-sized digital audio interface that can deliver sound that rivals studio recordings,' says Product Manager, René Mørch, Product Manager. 'The d:vice Digital Audio Interface was designed with broadcasters and mobile journalists in mind, but can also be used by other content makers for recording music, filming on location and during both live and recorded broadcasts. With this interface, users can portably record and stream clear and professional audio from the connected microphones.'
More: www.dpamicrophones.com