AEQ has announced its third-generation Commentary Unit, the Olympia 3.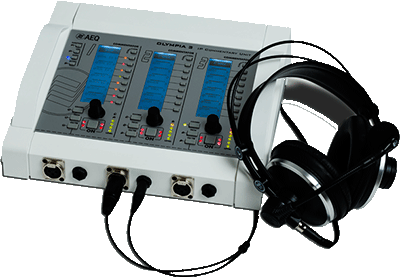 Used to generate and send the Unilateral Audio Signals (commentary) from and event venue to a radio or television broadcaster, the design and functionality of the Olympia 3 gives it three diffe
rent modes of operation – it can serve as a standalone unit (audio mixer), connected to a control PC, as a part of an AoIP intercom system operating on a multichannel audio network (the unit is Dante native but is also AES67 compatible) at the same time being an intercom panel for coordination, or forming part of a large-scale commentary system.
Each unit features three Gigabit Ethernet ports. One supports for PoE supply while the other two provide daisychain connection and have auxiliary outputs for video and data transport. Olympis 3 can also operate as a standalone audio mixer that may be configured as mono or stereo, with routing, tone adjustments and dynamics control.
Olypia 3 also supports the connection of up to three microphones (one can be set to work as the order microphone when operating as an intercom panel when required) and two line inputs. The design is a splash-proof construction and allows for outdoor operation under direct sunlight. It can also be configured with reduced brightness for operation in darker and indoor areas.
AEQ provides a wide range of native Dante AoIP networked audio devices for broadcast use – mixing consoles for on-air and production, matrix and routing systems, broadcast automation playout workstations, audio codecs for programme contribution and a wide range of audio input/output interface devices. Olympia 3 can be connected to all of these via AoIP. Further, if using the native Dante mode, Olympia 3 can communicate with more than 700 devices from third-party manufacturers. AES67 mode further guarantees the interconnectivity with any system or device that is compatible with the AES standard.
More: www.aeq.eu