Tascam has released the DR-100 MkIII Handheld Digital Stereo Recorder.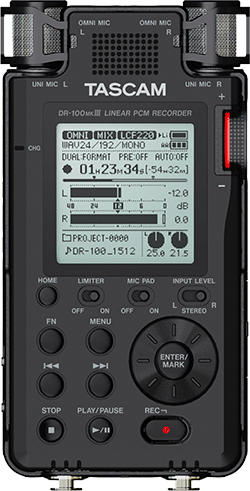 The newest generation of the flagship recorder offers 192kHz/24-bit resolution, a 109dB S/N ratio, Tascam HDDA microphone preamps, temperature-compensated clocking and high-performance dual-mono AKM Velvet Sound converters, and support for SDXC cards up to 128Gb. It is built on a rugged black aluminium chassis for demanding location work.
The DR-100 MkIII has dual stereo mics that can be used in both A-B and omnidirectional configurations, two XLR/combo jacks, switchable phantom power, and a dedicated input level control for fast, tactile operation. Dual battery technology uses a built-in Li-ion rechargeable as well as AA batteries, giving extended recording times and the ability to change batteries on the fly.
Built for real-world use, the recorder also features Tascam's Dual Recording Mode, which simultaneously captures a lower level safety track, to safeguard against unexpected source level spikes.
'As high-resolution recordings have grown in popularity, audio professionals are demanding higher sample rates and better performance,' says Tascam Director of Product Marketing, Jeff Laity. 'The DR-100 series has long been the handheld recorder of choice for serious location recording and sound design, and we knew we'd have to do a lot to improve upon that. We haven't just added features – we've created an even more powerful, high-precision professional recording tool.'
The Tascam DR-100 MkIII is available at a street price of US$399.99.
More: www.tascam.com