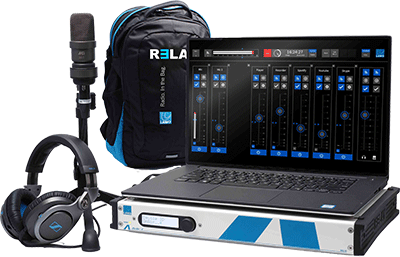 Lawo raised has released RƎLAY Virtual Radio Mixer software, continuing its 'virtualising' of radio studio technology.
Taking advantage of computer virtualisation technology adapted from the IT industry, RƎLAY is virtual mixing software that's designed to take full advantage of current laptop and desktop PCs.
RƎLAY software lets engineers replace physical consoles, and entire racks of accessory gear, using a single desktop or laptop PC – with significant cost savings. With RƎLAY, all mixing is done natively on a standard Windows laptop or PC. Its intuitive multi-touch interface offers a familiar mixinf environment, while software apps from RƎLAY partners supply virtual codecs, phone hybrids, audio processors, cross-point routers, streaming encoders and other broadcast tools that run entirely in software, interfacing with the mixer via standard WDM or ASIO interfaces.
RƎLAY is suited to grab-and-go remote kits, field journalists, fast set-up of on-location studios and webcasting, as well as offering a replacement for aging studio hardware or a permanent personal studio. Bundles include RƎLAY VRX4 and VRX8 (4-fader and 8-fader mixer) software, paired with a compact Lawo OnAir 4 audio interface to supply mic, line, AES3 and Ravenna/AES67 I/O. A heavy-duty RƎLAY backback with space for a laptop and other on-air accessories like mics and headphones is also included.
More: www.R3LAY.com