Tascam has a new audio recorder for single-shooter video production in the DR-701D, combining a time-code generator for location reference, which can be jam synced from a SMPTE generator, camera, or smart slate.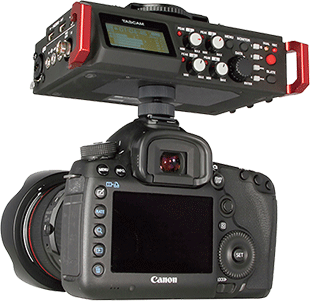 Designed for the needs of professional filmmakers, television producers, advertisers, and documentarians, the DR-701D packs high quality multitrack recording into a package compact enough for use with any camera, the unit's four mic inputs can be individually recorded and mixed to a stereo track, for a total of six-track recording. For additional tracks, multiple units can be cascaded together. Using the built-in mixer, four tracks and their stereo mix (six tracks total) can be simultaneously recorded. In addition to pan and level adjustments, the mixer includes a delay function to compensate for distances between mics. A mid-side decoding function is also built-in for use with MS stereo mics.
An HDMI input and output allows the DR-701D's internal clock and the camera to be digitally synchronised. Even when shooting long events, the video files recorded by the camera and audio files recorded by the DR-701D will not drift out of sync. By connecting multiple units using HDMI, slave DR-701D units can be made to follow a master unit to start and stop recording simultaneously. Since audio can also be output through the HDMI connection, monitoring selections can be made using slave units without reconnecting headphones.
The built-in SMPTE generator allows the camera and DR-701D to store the same location reference. Several options are available to integrate SMPTE LTC into a camera system. The BNC time code input can follow a source signal, or can be 'jam synced' a few times per day for independent freewheel operation. Cameras that send time code through their HDMI output can be followed by the DR-701D's time code input. And the internal generator can be started without an external reference for a simple time-of-day stamp on recorded BWAV files.
The DR-701D features Tascam HDDA mic preamps, whose differential circuits use discrete architecture – Texas Instruments OPA1652 op-amps are used for their high quality and low noise, giving an equivalent input noise of -124dBu or better. The A/D converters are made by Asahi Kasei Corporation and are equivalent to those used in the top models in the Tascam DR series of linear PCM recorders. High-quality HDDA circuits support audio resolution up to 96kHz/24-bit when recording six tracks and 192kHz/24-bit when recording two tracks.
The four XLR/TRS inputs can be adjusted and recorded independently, allowing various on-set recording options. Talent can be recorded using shotgun mics, lavaliers, or both simultaneously. Ambience can be recorded using a stereo mic (or the built-in microphones.) The 3.5mm stereo input can be selected for Channels 1 & 2, and the built-in omni mics for Channels 3& 4 for an even wider range of mic set-ups.
The limiter function automatically adjusts excessive input levels, and can operate independently on each of the four inputs. A more natural sound quality is achieved because a multiband limiter is employed, affecting only the frequency ranges that have excessive input. In addition, a low-cut filter can be adjusted to five different frequencies to cut wind noise, rumble and other undesirable low frequencies without damaging the source audio. A dedicated connector is included to output mixed audio to a DSLR or video camera. This way, the same audio can be recorded by both the DR-701D and the camera. The output level is adjustable to avoid overloading the mic-level input on many cameras.
In cases where the video or DSLR camera does not include SMPTE sync, the audio on the camera can be synchronized with the DR-701D's audio files in a video editing program. Editors such as Final Cut Pro X and Adobe Premiere support automatic sync between video and audio recordings using the 'multi-camera' or 'multi-clip' feature.
The DR-701D can also be used as a six-track field recorder with four input channels. Tripod mounts on the top and bottom of the unit allow the unit to mount under a camera, attach to a follow-focus cage, or used stand-alone.
More: http://tascam.com/product/dr-701d