Tascam has announced the DR-10SG microphone/digital audio recorder.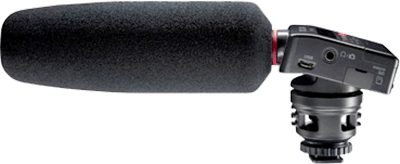 Designed for videographers using DSLR cameras as a primary capture device, the DR-10SG addresses the compromises imposed by traditional on-camera audio.
'The ability to shoot hi-def video on DSLR has revolutionised all aspects of filmmaking, from corporate and indie productions through Hollywood blockbusters,' says Tascam Executive VP, Jim Mack. 'Our goal is to elevate the quality of the sound to match the visuals, and the DR-10SG enables us to achieve that goal.'
The DR-10SG combines a purpose-built shotgun microphone, a self-contained digital audio recorder and an integrated shockmount in a 110g housing, which includes the AAA battery (providing more than eight hours of continuous use). 'When I'm on-site or on-set I need to move quickly and get it right the first time,' says independent film and television producer, Aaron Ehlers. 'With the DR-10SG I'm no longer forced to set up a secondary audio system for each and every shot. I can simply clip the DR-10SG to my camera and begin filming, confident that the quality and clarity of the audio will be great. Now I actually can run and gun.'
In addition to direct camera attachment with the built-in shock-absorbing shoe mount, the DR-10SG features four selectable EQ presets (natural/flat, standard, interview, field), a Camera Output connector for audio pass-through, a slate tone generator for easy audio sync during post production and a unique Dual Recording feature, which automatically records a safety track at a lower level to safeguard against accidental overload and distortion.
The DR-10SG is expected to ship in Q2 2016 with an MSRP of US$249.99, and will include a custom windscreen, noise isolation arm, attenuation cable, and cable clip.
More: http://tascam.com/product/dr-10sg