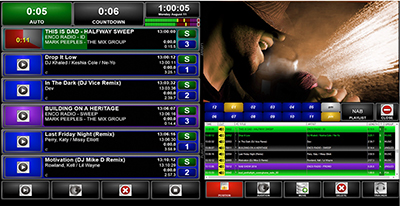 Enco's Visual Radio integrated platform uses the company's DAD radio automation and Presenter management interface to provide a complete multimedia operation for web and mobile broadcast.
'Visual Radio represents the first true platform to tightly integrate all hardware and software required to produce a television-like experience for radio audiences,' says Enco General Manager, Ken Frommert. 'We're making it easier and cost-efficient for our customers to migrate away from lower-quality webcasting platforms. While there is plenty of freedom for manual operation as desired, Visual Radio acts as the director in your studio when used in a fully automated fashion.'
Visual Radio gives broadcasters a comprehensive content acquisition and production system for the scheduling and delivery of synchronised video and audio, with targeted advertising support. Broadcasters can cleanly deliver and monetise radio programming online, broadening reach as audiences change how they perceive and The system's operational flexibility is important for radio broadcasters familiarising themselves with video production workflows, and supports music videos, programme audio and interstitials (targeted ads, promos). Enco's Presenter interface eliminates the need to learn new software and manage multiple content libraries. Instead, customers benefit from an intuitive live-assist application to suit each operator's preferred balance of manual and automated control.
Enco's solution offers built-in intelligence that eliminates some of the more complex tasks traditionally associated with high-end, studio-based video production. For example, voice-controlled camera application will switch between hosts and guests during live radio programming, triggered though recognition of 'hot' microphones. Operators can additionally create custom rules to display all camera feeds at once, and assign dedicated graphical overlays to frame each shot. Tighter integration with graphics software further simplifies the user experience, including the management and integration of live social media feeds, visual effects and transitions.
More: www.enco.com